First reveal of Center Parcs Woburn Forest accommodation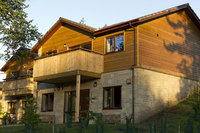 A first look into accommodation at the Center Parcs Woburn Forest site reveals upside down lodges and panoramic views across the woodland showing the transition of modern day family living since Center Parcs first opened 25 years ago.
The Center Parcs values have always been at the very heart of the accommodation design; since the first village opened in the UK in 1987. With 25 years of experience in providing luxurious short break accommodation for families, Center Parcs Woburn Forest has researched and thought about family modern day living and embraced these within the latest designs, just revealed.
Executive Lodges are being built with an upside down design, with the main living area on the first floor offering guests panoramic views across the woodland. This distinct design has been created to nestle within the landscape actually following the contours of the land. Like other Center Parcs, the lodges at Woburn Forest will provide a cosy and comfortable living space for families to enjoy quality time together. Connecting with nature is also an important part of a Center Parcs short break. Being nestled within the forest landscape, the lodges are as close to nature as you can get with large windows and patio doors looking out into the forest.
Center Parcs Woburn Forest, complete with 625 lodges and a 75 room hotel will be ready for the opening in spring 2014. Guests will be able to book their stay at the new village from summer this year.
There are four types of accommodation to choose from at Woburn Forest so that families can choose accommodation that suits their needs. These include Woodland Lodges, Executive Lodges, Exclusive Lodges and a 75 room hotel.
Martin Dalby, Chief Executive, Center Parcs UK, comments:"Woburn Forest is really starting to take shape and we are delighted to give guests a first look at the accommodation we'll be offering at the village. The designs for these lodges are an evolution of 25 years of success providing great family breaks. The accommodation is modern, stylish and embraces the surrounding natural forest environment." A quick snapshot into Center Parcs' shopping list emphasises how the Woburn Forest site is being built with 'family fun' at the heart of its design:
1,875 family board games
625 chalk boards
3,522 dining chairs
64 bean bags
634 rugs
7,348 pillows
6,356 cushions
777 tea towels
To view a 3D visualisation of how Woburn Forest will look at opening visit: centerparcs.co.uk/woburnforest