Renault continues road safety scheme support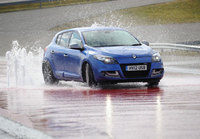 Renault is once again backing an award-winning safety scheme aimed at reducing the number of serious road accidents in the UK's fastest county. Safety initiative CarKraft, based at the home of the British Grand Prix, is helping to cut successfully the number of people killed and seriously injured in Northamptonshire, and this year's programme gets motoring on Saturday 12th May.

Renault joins Northamptonshire County Council, Adrian Flux Insurance and newest partner, The AA, in lending its support to the popular programme at the Porsche Experience Centre at Silverstone.

Tutors running the events, with more dates scheduled for 9th June and 7th September, are all highly qualified motoring professionals with years of experience of both motor racing and advance driving techniques. Each course costs under £50 and offers drivers a dynamic mix of workshops, allowing them to experience driving on simulated, challenging conditions at a state of the art, purpose built facility. It also explores the main causes of car crashes, speeding and seat belts.

Drivers aged over 17 will experience the Kick Plate and Ice Hill, which both generate the effect of a loss of wheel traction to explore car control under extreme road conditions, and get an assessed drive on public carriageways with a police driver, who will give tips on advance techniques.

New partners AA Driving School will be supplying dual-controlled tuition cars and instructors for those drivers without a licence.

The CarKraft driver improvement scheme started in 2001 and was aimed at young drivers aged 15 to 24 years old. It was awarded a Prince Michael International Road Safety Award in 2006 and since then more than 3,000 people have benefited from the unique experience which helped reduce the number of people killed or seriously injured in Northamptonshire to an all time low in 2011.

Last year CarKraft expanded to include non-drivers between the ages of 15 and 25 and licence holders of all ages from anywhere in the UK. The schemes have been hugely popular, regularly over-subscribed and have attracted numerous best practice visits by other local authorities.

Morning or afternoon sessions cost ?49.99, the same price as 2012, and last for around four-and-a-half hours. To book, or for more information, visit carkraft.info.