Renault Twin'Z concept car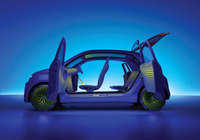 Renault and British designer Ross Lovegrove have took the wraps off Twin'Z. This concept car is the fruit of their close collaboration and brings together two worlds where Design plays an important role: the world of furniture and that of the automobile.
As the 'Play' petal of Renault Design's life-cycle 'flower', Twin'Z is the latest concept car in the programme which sets out to illustrate Renault's new design strategy through parallels with threshold phases of human existence. Twin'Z is a fun, modern, artistic take on the city car which plays on emotions and excites the senses. It draws its inspiration from the heritage of some of the brand's most emblematic models, such as the Renault 5 and Renault Twingo. The Twin'Z is an all-electric car with rear-wheel drive and a rear-mounted motor.
Renault invited British designer Ross Lovegrove to add some design flourishes and the result is an arresting blend of technology and refinement. Ross Lovegrove was given a free hand to imagine a cabin that is truly occupant-friendly. This project eloquently illustrates the many possible sources of inspiration that can drive Design and represents an original approach to the city car.
Ross Lovegrove's personal vision of the automobile takes its inspiration from the world of nature, and the result combines an unprecedented play on light and organic forms to make Twin'Z an endearing, almost living object.

When automotive Design meets the world of furniture

For once, Renault has chosen not to reveal a new concept car at a motor show. Instead, its choice of location stands out as a symbol of its interest in the Salone Internazionale del Mobile di Milano, the centrepiece of the Design industry's annual calendar, as well as evidence of the carmaker's determination to reach out to an even wider audience by targeting those who are sensitive to Design. The aim was to break down the boundaries between the world of an object whose calling is to be in movement – the automobile – and that of furniture.

"Renault Design must remain attentive and open-minded at all times. We need to be attentive to new trends in order to stay ahead of the game, while an open-mind that embraces all sectors of activity is necessary to inspire innovation. There are numerous bridges between the work of Ross Lovegrove – which combines beauty and intelligence thanks to an approach inspired by the living, natural world – and the strategy we have been working on for three years now at Renault, producing designs that are sensuous, based on simple emotions and close to the public."

Laurens van den Acker

"Twin'Z provided us with the ideal opportunity to place the process of automotive design under a different spotlight, a process which straddles the boundary between the world of the automobile and that of furniture. For this mission, we called on the creative input of one of today's most talented designers, and the Milan Show provided us with the ideal setting in which to reveal our latest concept car."

Twin'Z is an electric supermini. Thanks to its architecture, which features a rear-mounted motor and batteries located beneath the floor, it frees up exceptional cabin space and delivers high quality handling that makes it a delight to drive.

Twin'Z… A time to 'Play'

Twin'Z is the fifth concept car to result from Renault's design strategy which is founded on the notion of the human life cycle, and which is represented as a six-petalled flower. This strategy fits perfectly with the brand's determination to accompany its customers during the key phases of their lives and in their individual aspirations thanks to the diversity of its range.

"Renault's design strategy takes its inspiration from the human life cycle, focusing on notions such as 'Love', 'Exploration', 'the Family', 'Work', and now 'Play'. And what better way to express the idea of 'Play' than by entering the enchanting world in which Ross's thoughtful, beautiful and intelligently styled work comes to life. May it inspire you in the same way it inspired us."

Laurens van den Acker

After DeZir, which, in 2010, embodied the experience of 'love at first sight' which is behind so many memorable stories…
After Captur, which stood for exploring the world as a couple…

After R-Space, which symbolised the founding of a family…

And after Frendzy, which represented the world of work…

…now is the time for 'Play', which is personified by Twin'Z and symbolised by the colour blue. The way Twin'Z plays with light opens up a whole new world of personalisation opportunities.

Renault x Ross Lovegrove
After enlisting the services of Ross Lovegrove, Renault gave the celebrated expert in contemporary design a free hand to express his vision of the automobile, a vision which draws its inspiration from the world of nature and which is guided by a quest for a harmonious encounter between the automobile and its environment. Laurens van den Acker is sensitive to this refined, human approach which is inspired by the world of nature and the opportunities unleashed by the latest digital 3D modelling technologies.

'Ross turns things inside out, upside down, challenges and inspires. He makes a hard car soft, a small car spacious, creates simplicity despite complexity, and turns a lifeless object into something that is alive.' Laurens van den Acker

Ross Lovegrove's approach drew Renault's attention on three main accounts:

The exterior design of his sensuous, poetic creations.

His use of light and how it is projected.

His light, simple style and his work on fibres and textiles.

Ross Lovegrove's team was tasked with providing the finishing details to Twin'Z's bodywork (bumpers, lights, grilles, LED roofscape, wheels) which was based on a design produced by Renault Design. His studio was also responsible for designing the interior, including the choice of colours and materials, in conjunction with Renault.

At Renault, the project was overseen by Laurens van den Acker, Axel Breun (Concept Car Design Director) and Raphaël Linari (Designer).

Renault and Ross Lovegrove expressed their ideas using ultramodern digital design tools in order to carry over elements of formal design language that have their source in nature and biological structures to the automobile.

Twin'Z – Technology and refinement

Twin'Z underpins Renault's creative legitimacy which is founded on an entirely fresh approach, one fruit of which is this fun and modern city car concept. It takes its inspiration as much from the heritage of the first-generation Twingo as it does from that of the Renault 5, two small cars which broke new ground in ways that truly marked their time. Twin'Z takes us into a new dimension thanks to its dematerialised interior which combines simplicity with refined details and technology, backed up by the sophistication of its digital systems.

Twin'Z's forms and stance are key influences in the overall impression it exudes. Although only 3.62 metres in length, Twin'Z's proportions, high waistline and the way it sits squarely on its 18" wheels, suggest robustness, reassuring protection and quality.

Its all-electric, rear-wheel drive architecture enabled the wheels to be pushed out to the car's extreme corners to provide it with a solid grounding and large platform. This also gave the car a unique signature and outstanding cabin space in relation to its compact footprint.

At the same time, Twin'Z's taut lines convey a sense of strength and safety. The bodywork was enhanced by Lovegrove Studio thanks to an approach that blended refinement and technology.

Blue is the colour…

Twin'Z's striking blue livery pays tribute to the 20th century French painter Yves Klein. The satin finish gives a pure skin to the body which appears to be coated, almost anodised, rather than painted, suggesting that the pigmentation is inside the body and not applied. The soft clear-coat finish produces a velvet-like feel, while a certain iridescence lifts the car's 'electro-natural' appearance.

"It echoes France's cultural heritage while also mirroring the virtues of our planet. After all, isn't the Earth blue when seen from space?" Ross Lovegrove

The grille design creates a vortex effect which channels air flow and minimises turbulence to optimise Twin'Z's aerodynamic performance. The same motif has been embossed into the rear bumper as an echo of the lighting signature.

Twin'Z's front and rear doors are hinged at the front and rear respectively and open electrically. The resulting absence of a central pillar allows the entire cabin to be revealed to the eye and frees up space to facilitate ingress. This arrangement, which opens up the car's interior to the outside world, is not only ergonomic but also enables this compact car to break free from convention. As an object, Twin'Z is both precious and high-tech, and this is apparent in the touch-sensitive buttons employed to open the electric doors.

The wheels and tyres have been designed as a single entity. The wheels themselves feature a glowing green finish and their design is based on intelligent growth structures inspired by nature. The solid central core splits into slender branches which strike out towards the rim. The tyres, which were developed specifically by Michelin, continue this pattern to provide a unity between the two functions. As a consequence, the wheel is perceived as a whole rather than a simple juxtaposition of distinct elements. This design was made possible by parametric modelling and 3D printing in order to achieve an eye-pleasing structural unity.

A fascinating play on light that symbolises energy

Twin'Z's all-LED lighting allows controlled light patterns to be obtained and emphasises the car's lighting signature. The headlight assembly has been reduced to its graphic intent using the minimum of lines to communicate a positive, alert expression. Crowned by an eyelid, they provide Twin'Z with an optimistic lift. Meanwhile, the daytime running lights are technological gems which form a structure of strips redolent of an iris. In addition to contributing to the front end's anthropomorphic feel, they bestow Twin'Z with a near-humanlike gaze.

A sequence of LEDs also extends from the grille to the rear bumper via the roof. A pattern of light originates from the Renault lozenge badge and flows towards the head lights before climbing up over the windscreen pillars, along the roofline and then back down to the rear bumper. This light path creates a magical effect which appears to bring Twin'Z alive.

The glass roof is designed in layers and incorporates an array of LEDs which form animated patterns that expand the occupants' experience. "Passengers are hooded in a technological envelope that bathes them in a light which responds to the energy and pulse of Twin'Z," says Ross Lovegrove. "This roofscape heightens the sensation of space and blends seamlessly into the rear window.

The conventional door mirrors have been replaced by an integrated video camera that has been aerodynamically 'liquified' within the body. A crystal rear spoiler not only generates extra downforce but also completes the aesthetic flight of the car in a dynamic sense, creating visual lift and a sense of lightness.

The rear clusters have made way for LED lighting incorporated into the glass. This concept permits a host of new ideas. For example, when the driver presses on the brake pedal, the burst of the brake lights climbs gradually towards the roof, for enhanced visibility and safety.

The name of the car is picked out in gold letters on the rear window, while the 'LOVEGROVE' signature has been moulded into the bottom of the front doors.

Twin'Z's interior: from home to home

Twin'Z continues the tradition of compact, yet spacious, Renault city cars. Thanks to its original architecture, its interior is exceptionally roomy, despite its small footprint. The double floorpan has resulted in a high-up driving position, while the driver and passengers alike benefit from an excellent view of the road and surrounding environment.

The cabin is dematerialised and exudes an impression of simplicity that provides a sense of unity and space.

"The interior is not broken up into separate elements and all passengers feel very much part of the travelling experience. The rear seat backs have been integrated into the floor-pan to create space and a new, informal aesthetic." Ross Lovegrove.

The rear-hinged rear doors and the ensuing absence of a B-pillar reveal a panoramic view of the cabin, creating a sense of purity and lightness:

The purity of the interior's lines is picked out by a voluptuous path of light. These milled bi-colour lines circulate round the entire cabin to describe a flow of energy, lighting up the interior with a luminescent green that maps its topographical forms. They treat the cabin as a single landscape to heighten the impression of space.

The four lightweight seats have been rendered as small as possible, providing support whilst being lightweight and dematerialised. Their green frames appear to grow naturally from the floor and have been upholstered in a 3D woven, self-cushioning, lightweight blue textile which is both waterproof and flame-resistant, yet which still breathes. The seat frame is visible behind the weave to create an almost aerial feel. Meanwhile, LEDs have been embedded into the frame's branches to pick out their forms and illuminate the interior.

The eye is drawn irresistibly to Twin'Z's steering column, inviting you to climb behind the wheel. There is no dashboard, which means that front occupants enjoy exceptional room, as do the rear passengers, thereby ensuring that all the occupants benefit from the same experience.

Use of HMIs (Human Machine Interfaces) has been minimised, too, with the conventional dashboard making way for a single tablet with a touchscreen display that is mounted on a centrally-positioned post. Much like a home automation system, the tablet takes care of everything, from the vehicle's systems (heater, seat adjustment, lights activation, control of the roof) to the GPS guidance system and in-car connectivity. A smartphone located in the driver's line of sight display's the vehicle's speed, range-related information and the principal warning lights.

Ross Lovegrove's vision of the automobile: "All in one"

"For me, the car is just a big product. But the magic for the designer is having the potential firstly to concentrate on working within the boundaries of a single 'project', then secondly to be able to design the furniture, lighting and electronics. I adopted a coordinated approach to both the inside and outside to ensure that Twin'Z read as one object and benefited from the same artistic mind-set founded on digitising and electrifying the car.

"The car has become a symbol of our progress and civilization; an icon of our technocracy and our ability to transform materials into objects of great precision and physical presence.

"The use of composites and recycled materials opens up new opportunities to combine textures and new skin expressions. Mechanical 'hard' aesthetics are making way for the biological principles of 'soft' aesthetics.

"As a consequence, designing a car no longer consists merely in improving the look and feel of the drive experience. It involves harnessing a new attitude towards how we integrate vehicles into everyday life by reducing harmful emissions, dematerialising the car's physicality to achieve lightness, and maximising not only its footprint but also, and above all, its efficiency and intelligence.

"That is what I wanted to achieve through this project.

"Thanks to advances in digital modelling, the frontier between dream and reality is becoming increasingly hazy. It is now possible to create objects which feature a strong design yet which still meet the needs of consumers.

"From the start, the intention was to build on the heritage of luxury and grace associated with France and to express it in a modern way, while at the same time creating a link between Renault's past, present and future." Ross Lovegrove