From the Mayflower to the Boston Tea Party - history in New England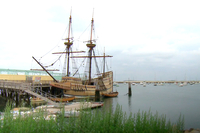 History is everywhere in New England, and many attractions bring it to life in a way that is fun and fresh. From the simple huts of Plimoth Plantation to the grand Newport Mansions of the Gilded Age. Travel to Vermont to see Hildene: The Lincoln Family Home; to Western Massachusetts to visit Hancock Shaker Village; and onto Boston to see the newly expanded Boston Tea Party Ships and Museum
When it comes to the story of America, New England is a history book come to life. Americans come to see this region to see "where it happened." For those from abroad, a visit provides insights into the American character. And for all travelers — a history-themed vacation in this region is a lot of fun!
Pilgrim Fathers (And Mothers!)
New England was founded when the Pilgrim Fathers stepped ashore in November, 1620. After their voyage from Plymouth, England, they first landed near Provincetown, on Cape Cod. They settled in Plymouth, where Plymouth Rock commemorates their arrival. Go aboard Mayflower II, a full-scale reproduction of their tiny ship. Built in Brixham, England, 50 years ago, the vessel was a gift of the British people. Tour Plimoth Plantation. One of the country's best living history attractions, this time machine takes you back to 1627, complete with Pilgrims and Native Americans.
Revolution!
In Boston, walk the Freedom Trail to find out why the Colonists wanted independence. Then visit nearby Lexington and Concord, where the first shots of the Revolution were fired on April 19, 1775. Learn who did what, when, where and why at the excellent Minute Man National Historical Park.
But, the Revolution affected lives throughout New England. Up in Vermont, Bennington has a tall monument commemorating a battle fought in 1777. In Rhode Island, the annual Gaspée Days in Warwick recall the burning of a British schooner. In Maine, York had its own version of the Boston Tea Party, while in New Hampshire, Portsmouth honors Scottish-born John Paul Jones, the "Father of the American Navy."
The Gilded Age
The Industrial Revolution generated huge wealth. See the grand mansions of the Vanderbilts and their affluent friends, now open to all in Newport. Although furnished with fabulous art and antiques, these "summer cottages" were only used for a few weeks each year. See an example of 20th-century wealth at Rough Point with its antiques and European art. This was the home of the heiress Doris Duke, who lived here until 1993. In Western, Massachusetts in the lovely town of Lenox, visit Ventfort Hall, a mansion and museum of the Gilded Age. In Connecticut, the Mark Twain House in Hartford and the Lockwood-Mathews Mansion Museum in Norwalk also reflect this period.
The Simple Life
Learn about the Shaker sect, their classic furniture design and quiet lifestyle, in Canterbury, New Hampshire and Hancock, Massachusetts, and in Sabbathday Lake, Maine, where the last surviving community still lives. (Open seasonally.)