10 great reasons to visit Italy this summer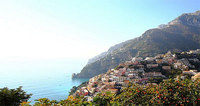 Few countries offer the variety and diversity of Italy: mountains, sparkling coastlines, ancient history and sumptuous cuisine. Whether you're strolling through the great art cities of Tuscany and Umbria, or admiring the rolling hills and ancient forests of Venetia with their amazing array of beautiful wild flowers, a Headwater holiday to Italy will give you a taste of a seductive way of life that will leave you wanting more.
Top 10 reasons to choose Italy for your 2013 summer holiday:
1. To walk some of the most stunning coastal paths in Europe
As well as being the start point for the 2013 Giro d'Italia cycling race (Italy's equivalent of the Tour de France is scheduled to start in Naples on 4 May), the Amalfi Coast also offers some of the most sensational walking in Europe. Highlights include Ravello, Positano and the formidable Sentiero degli Dei ("Pathway of the Gods") jutting out below the glorious Bay of Naples and dominated by the brooding silhouette of Vesuvius. It's breathtaking and exciting walking country with dramatic views and stunning scenery at every step. Travel with Headwater this spring, and choose between a guided tour or an independent hotel-to-hotel itinerary.
2. To drink the finest red wine in the world
Undiscovered by most tourists, the sun-drenched region of Piedmont is home to an incredible array of fine wine villages, including honey-coloured Barbaresco and hilltop Barolo. Whether cycling or walking, you'll have ample opportunities to sample world-famous wines at superb value-for-money prices.
3. To learn all there is to know about coffee etiquette
You probably know that Italians drink a lot of coffee, but do you fully appreciate the cultural importance of what to order, and when? You'll never hear a local asking for a cappuccino after a meal, for example, nor would a caffe corretto be ordered at breakfast! Book any of our Italian holidays and we'll send you the "do's and don'ts" of Italian coffee bar etiquette!
4. To hike the most famous active volcano outside of Iceland
Headwater's Islands of Sicily Walk includes a full day on awesome Mount Etna, the largest active volcano in Europe and Sicily's most prominent landmark. Take a cable car up to 2,500m and discover the line of craters that last erupted in 2002/3. You'll be rewarded with the most amazing views down to the Ionian coastline and Catania.
5. To bathe in the best thermal spa we've ever come across in Saturnia
The lovely Etruscan hill village of Saturnia, famous for its hot (a constant 37.5 degrees) thermal springs, is one of the most visited sites in southern Tuscany. Admission to the springs is free and open to everyone, but make sure to build in time too to explore the ancient ruins, Etruscan walls, old Roman gate and ancient Sienese fortress.
6. To stay in the unique UNESCO site of Alberobello
Opt for our Contrasts of Puglia cycling holiday this summer and spend 2 nights in UNESCO-listed Alberobello where you'll stay in your own private trullo house - a conical-roofed limestone dwelling and the architectural symbol of the region.
7. To eat the most expensive truffles in the world
Capital of Piedmont, crimson-coloured Alba is revered by gastronomes the world over for its links to the exclusive white truffle - the trifola di Alba. If your wallet won't stretch to truffles (the most expensive sold here for £64,000/ kilo!) then don't despair: the town is also home to Ferrero Rocher and Nutella (made from local hazelnuts) chocolates!
8. To picnic where St Francis used to preach to the birds!
Magical Assisi, and jewel in the Umbrian crown, features on both our Footsteps of St Francis Walk and Aspects of Assisi cycling holidays. Be sure to visit St Francis' basilica with its beautiful ornate frescoes, and his peaceful forest retreat on Monte Subasio where he used to stroll and preach to the birds.
9. To turn back the clock on Marettimo!
For complete escapism, the traffic-free whitewashed island of Marettimo is hard to beat! Made entirely of dolomites, and cloaked in pines and oaks, Marettimo is the most secluded of the Egadi Islands and is home to a myriad of animals, wildlife and rare birds of prey. Customers on our Secrets of Sicily Walk spend 3 nights here.
10. To soak up the splendour of some of the world's finest art cities!
Tuscany is packed with cultural and historic interest, hidden art treasures and boasts more antiquarian sites than anywhere else on earth. Join our Highlights of Tuscany guided walking and sightseeing tour and you'll visit Florence, Siena, Lucca, the Cinque Terre and San Gimignano.
For bookings and further information, visit headwater.com.