Visit Malaysia for a luxury break or an idyllic honeymoon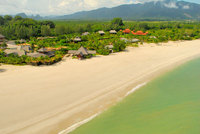 Malaysia is the perfect destination of choice for a luxury getaway from indulging in five-star accommodation or private chalets on the beachfront, relaxing amidst the Malaysian rainforest, or being pampered in one of the many city spas. Malaysia's luxury offerings also make a perfect destination for newlyweds to celebrate their honeymoon together.
The idyllic island resort of Pangkor depicts luxury; the Golden Sands Beach spanning 1.2km on the northwest of the island is one of its most popular beaches due to the warm turquoise waters. Telik Nipah on Pangkor offers visitors solitude and excitement by the beach with a stroll across to Gaim Island at low tide a must for a chance to view a selection of marine life. A short 20 minute boat ride from Pangkor brings guests to the world renowned tropical island destination of Pangkor Laut, a favourite amongst honeymooners as the island boasts one of the finest beaches in the Straits of Malacca. Newlyweds are spoilt for romantic offerings here, from sunset cruises around the island to a romantic meal for two by Emerald Bay with spectacular views. For those seeking complete rejuvenation there is the spa village of Pangkor Laut equipped with steam rooms, saunas, Jacuzzis and pools to ensure a full pampering experience.
As well as Pangkor Laut's Spa Village, Malaysia offers a multitude of spa outlets. Many spas can be found in Malaysia's capital Kuala Lumpur but most are hidden amongst the white sands and palm trees of beach resorts and amid the mountainous rainforests. Many of the retreats have been designed to blend in with the landscape, maximising the surrounding serenity of beaches, rainforests, mountainsides or city settings. With an array of couples' treatments available, honeymooners can be sure of relaxing together and being pampered in luxury.
Langkawi, situated off the coast of Kedah State in the far northwest of Peninsular Malaysia, comprises a jewelled setting of 99 islands offering the ultimate in luxury and world-class facilities. The hideaways of Andaman, Datai and Tanjung Rhu are just a few of the dream destinations for travellers to visit. Cenang Bay, 3km from Langkawi International Airport is the most developed of the beach areas, housing several luxury class hotels with plenty of watersports available. Honeymooners attracted to Langkawi can hire a boat from Tengah Beach and go island hopping, exploring the area at their own pace or enjoying a variety of activities with scuba diving most popularly carried out in the Payar Island Marine Park, one hour away from Langkawi's Kuah Town by boat.
To add an active twist to a honeymoon, a trip to Sabah or Sarawak is ideal for unforgettable snorkelling, scuba diving, windsurfing, kayaking or parasailing experiences in world famous water parks such as Sunway Lagoon in Kuala Lumpur or Bukit Gambang Waterpark in Pahang. Newlyweds can enjoy calm and seclusion away from the beachfront and discover romance amongst the highlands of tropical Malaysia.
Those looking to combine nature and adventure with luxury can visit the old British hill resort of Cameron Highlands or head into the rainforest in Taman Negara National Park. For round-the-clock excitement, Genting Highlands offers an abundance of indoor and outdoor theme attractions. In Kinabalu Park, Sabah, visitors can discover Malaysia's first world heritage site, revelling in the wealth of flora and fauna on offer with picturesque trails through the jungle, tackling the strenuous, but not impossible, peaks of Mount Kinabalu before soaking their muscles in the warm waters of Poring Hot Springs.
Malaysia's capital, Kuala Lumpur, is one of Asia's most dynamic cities with iconic landmarks such as the Petronas Twin Towers. It is the perfect city break with its very own luxury offerings, often twinned with a visit to the coast for those on their honeymoon. A paradise for shoppers, Kuala Lumpur boasts several upscale shopping centres with luxurious brands on offer and has a plethora of spas to choose from. Kuala Lumpur offers a variety of exclusive duty-free products and luxury items as well as promotions and bargains in 2013 with the Malaysia Grand Prix Sale 08 March until 14 April, Malaysia Mega Sale Carnival 29 June until 01 September and Malaysia Year-End Sale (M-YES) from 08 November 2013 to 05 January 2014.
With an eclectic mix of culture, stunning beaches, a wealth of luxury offerings and the chance to discover the country's enchanting landscapes, it is no wonder that increasing numbers of couples are choosing Malaysia as their luxury and/or honeymoon destination.
For more information, visit tourismmalaysia.gov.my.