Hollywood's most famous newly-weds honeymoon in Gozo!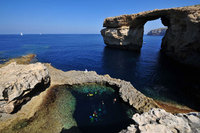 Brangelina, the world's most talked about newly-weds are planning a 'working honeymoon' with the entire family in tow on idyllic Gozo whilst they film their latest film on the secluded island.
Brad Pitt and Angelina Jolie's much anticipated honeymoon has been eight years in the making and the A-list pair clearly recognise there's nowhere quite like Gozo, Brad being familiar with the hot spot as he shot blockbuster Troy on sister islands Malta and Comino.
Most of the film 'By the Sea' which the couple are shooting together will be filmed near Kantra Beach whilst they also recently took over the small pebble beach of Mgarr ix-Xini Bay, a beautiful spot for swimming and snorkelling.
Follow in Brangelina's footsteps by booking a Gozo holiday this autumn and explore the Mediterranean haven for yourself!
The island is ideal for active travellers, families, couples and culture vultures who are looking to experience the authentic Mediterranean lifestyle. Just a short ferry ride from Malta, explore and discover the island which is smaller, greener and quieter than its sister Malta whilst still gaining that sought after once in a lifetime experience.
Gozo boasts a rural untouched landscape, traditional villages, long winding walks, secluded lagoons and caves, stunning hidden beaches, picturesque harbours, traditional limestone farmhouses and array of indigenous industries showcased by the locals such as lace, honey, wine and cheese.
The beaches are amongst the safest in the Mediterranean, with warm temperatures and calm waters year round – making it a preferred destination for families including Brangelina's brood!
Ride or sail the waves whilst trying your hand at any of the huge array of water sports on offer, scale the cliffs whilst rock climbing or abseiling, trek the green landscapes on horseback or explore the island's hidden gems on foot or bicycle, dive the stunning coral reefs and snorkel with the tropical fish that call the Gozo coast home.
For the ultimate in secluded luxury, stay in one of Gozo's luxury villas for hire in private locations like the Brangelina clan or alternatively stay in an authentic farmhouse, five-star, spa or budget hotel.
Gozo Honeymooners
Malta Direct is offering seven nights at the 4* Grand Hotel in Gozo for just £488 per person based two sharing on a B&B basis and including flights from London Gatwick.
Family Holiday in Gozo this October half term
Malta Direct is offering seven nights for a family of four at the 3* Sunflower Hotel from just £368 per person on a B&B basis departing London Gatwick on 23 October.
For more information, visit maltadirect.com.