Spring getaways: Why you should head to Malta this spring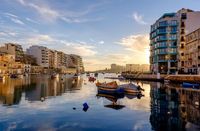 Let's be honest, once Christmas time is over and we've passed through the New Year, winter is pretty boring. It's cold, dark and wet and you're dreaming of those summer months and those few days of glorious sunshine. But then again, we all know that wait between winter and summer can feel like a lifetime, so to break it up, why not go a spring break? And where better than Malta!
With an average temperature of 14-16 degrees, the spring months are somewhat warmer than that of Britain and what's more is that the Maltese are renowned for their friendly hospitality and generosity.
The people there are well known for going out of their way to ensure that guests have the perfect stay which of course makes for a perfect, personal and welcoming experience. In addition to this, almost everyone speaks English as it's the second language in Malta, this is a huge help to visitors as there is no language barrier and you are able to communicate with pretty much everyone.
With 7,000 years of history to explore, you won't be short of things to do in Malta with a host of idyllic scenery and architecture to stumble upon and you'll see why the island has been described as a one big open-air museum. It doesn't end there with a wide variety of activities also on offer, you can try your hand at hiking, mountain biking, rock climbing, paragliding, windsurfing and scuba diving as well as much much more.
And if the spring whether fails to impress then a large of majority of Malta hotels boast indoor pools, gyms and tennis courts so there's no need to worry about getting caught in the rain.
Malta's sister island Gozo is also reason enough to visit the Maltese region. The rural and peaceful island is a perfect location for families and couples alike with beautiful beaches, countryside views and a plethora of cheap rentals courtesy of the guys over at Owners Direct.
As well as the golden sands and picturesque scenery, there are a number of points of interest around Gozo from the Megalithic temples of Ggantija and Calypso's cave which is said have played a part in the journey of Homer's Odyssey.
The seaside town of Xlendi offers stunning view of its bay surrounded by high cliffs. If you're after a swim then Ramla l-Hamla, Dahlet Qorrot and San Blas Bay are the perfect spots.
You don't have to travel to Gozo in search of a beautiful beach, however, the Northern and Western shorelines of the island boast some of the best beaches you'll see, particularly Mellieha Bay which just happens to be the island's largest beach.
If you're after a decent party scene, then Malta won't fail to deliver. It offers a vibrant nightlife and you'll see why Tiesto and Carl Cox love to play sets there. For a unique experience and one of the best night outs you'll ever go on, head to an open-air club, they are extremely popular among both locals and foreigners.