Eight luxury hotels in Malta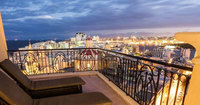 The island of Malta will be under the spotlight this weekend, as it celebrates its 50th anniversary of independence and welcomes Prince William to mark the occasion. Although Kate was originally intended for the Royal Visit, her husband has stepped in due to acute morning sickness. The Duke of Cambridge has a busy schedule, including unveiling a plaque, visiting the local community centre and witnessing traditional folklore.
Although William will be staying at private residence San Anton Palace, hotel comparison website trivago.co.uk has compiled a list of eight accommodations he might have selected instead. With natural beauty, historic towns and a sunny Mediterranean climate, Malta has long been a favourite among British holidaymakers. Those wishing to follow in the Duke's footsteps should look no further than one of these luxury hotels…
1. The Palace, Sliema
Elegant and cosmopolitan, The Palace is a luxury five-star hotel on the Maltese coast. The hotel offers guests an individual and intimate experience; all suites are individually designed and completely unique, while the hotel's penthouse location boasts beautiful views over the harbour and Valletta's beautiful skyline. The Palace also features a rooftop infinity pool and a spa. For anyone wanting to emulate royalty, The Palace is a good place to start.
2. The Westin Dragonara Resort, St. Julian's
The Westin Dragonara Resort is a top luxury hotel that's perfect for families and couples alike. Located right on the water's edge, the hotel has several pools, as well as access to two private beach lidos. The Westin Dragonara offers spacious suites fitted with contemporary and comfortable furnishings, as well as generous outdoor space for relaxation. For families, the hotel offers a Kids Club and three children's' swimming pools, while couples can make the most of the hotel spa, gym or beauty salon.
3. Valentina, St. Julian's
Valentina is a luxury boutique hotel with a contemporary edge. Spread over six floors in the heart of St. Julian's, the hotel is decorated with fine attention to detail; its rooms feature a minimalist design with bursts of colour, while chic modern furnishings can be found throughout the hotel. The rooftop infinity pool continues Valentina's upmarket feel, while the designer martini bar backs onto the hotel's private terrace. This fashionable hotel is a great choice for those looking to enjoy luxury in style.
4. Corinthia St. George's Bay
A grand hotel right on the Mediterranean Sea, the five-star Corinthia St. George's Bay is a real gem. This stylish hotel offers a range of rooms, family rooms and suites to cater for all needs – many with sea views and all with private balconies. In addition, the hotel boasts a wide selection of dining options with an open outdoor terrace, a richly decorated lounge bar, an American bar & grill, a fine dining experience run by a renowned chef and the exclusive White Olive Restaurant by the pool. The hotel also boasts a range of activities, such as a Kids Club, diving lessons and personal training sessions. Alternatively, you can chill out be one of the many pools.
5. Radisson Blu Resort Malta, St. Julian's
Located directly on the coastline, Radisson Blu St. Julian's is a great place to spend your stay in Malta. The hotel offers plenty of opportunity to make the most of the Mediterranean sun, with a large outdoor pool and terrace area. Additionally, most rooms feature sea-facing balconies or larger sun terraces. Inside, the hotel's range of suites are suitably decorated to meet a range of needs: from private Executive Suites to spacious Family Suites. The Radisson Blu St. Julian's also features the Marion Mizzi spa, offering a range of treatments for relaxation, beauty and wellness.
6. Grand Hotel Excelsior, Floriana
With a captivating regal staircase to greet guests upon entering, the Grand Hotel Excelsior in Malta's capital certainly lives up to its name. The five-star hotel captures the essence of Valletta's beautiful historic feel, encompassing many aspects of Baroque architecture and featuring its own olive garden. Inside, the open-plan hotel has been decorated in an elegant style with timeless furnishings. The hotel also offers guests generous outdoor space, as well as several pools and a relaxing spa. Where better for a luxurious stay in Malta?
7. Argento, St. Julian's
Argento is a stylish four-star boutique hotel which combines comfort and style. With a range of tastefully decorated rooms, the hotel offers three different types of suites to fit the needs and budgets of a range of travellers. The hotel's rooftop swimming pool is also one of the highest in St. Julian's, offering great views of the picturesque bay below.
8. Le Meridien Hotel & Spa, St. Julian's
Combining the charm of a boutique hotel and the luxury of a spa, Le Meridien St. Julian's is a five-star hotel in the heart of St. Julian's, a bustling town on Malta's coast. Elegantly furnished with modern finishes, this stylish hotel offers a range of different room types, including Executive Suites, which feature two private balconies, a spacious bathroom and separate shower room, as well as an additional living room. The hotel's MyoKa Spa also boasts an impressive interior – decorated with traditional Balinese hand-carvings and stone pillars imported from the tropical island – the perfect place to enjoy a rejuvenating treatment or dip in the heated pool.