Wedding planners say 'I do' to Malta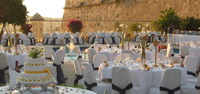 The historic Phoenicia Hotel in Valletta recently hosted a group of wedding planners from the UK on an educational visit to Malta with Perfect Weddings Abroad, supported by the Malta Tourism Authority. The Phoenicia created a mock-up wedding for the occasion with an extravagant dinner in the hotel's Maryanski Porch, adjacent to the magnificent Grand Ballroom.
Sales and marketing director Rob Bruno commented, "Malta is becoming increasingly popular as an overseas wedding destination for UK couples, and we've seen a 10% increase year-on-year so we were delighted to take part in this initiative for wedding planners visiting the island.
"Our wedding packages at Phoenicia Hotel offer great value and British couples can enjoy a breathtaking setting and Mediterranean climate, whilst still being able to handle the formalities with ease, since English is one of the national languages, and that's certainly a big factor in the decision-making process."
The four-course wedding banquet which the group enjoyed at Phoenicia provided a taste of the hotel's acclaimed Mediterranean fusion cuisine, using herbs, fruit and vegetables freshly picked from their own kitchen garden for dishes including foie gras with caramelised spring onions, mandarins and hazelnuts, risotto with porcini mushrooms and redcurrants and a main course of lamb in a hazelnut and pistachio crust with artichokes, asparagus and new potatoes.
Co-ordinated by Maltese wedding specialists Dreemz Planners, the group also visited Limestone Heritage, Hastings Gardens, Hola Beach, Valletta, Mdina and Villa Bologna, over the course of three days.
For more information on weddings and honeymoons at Phoenicia Hotel visit phoeniciamalta.com.