How are pubs adapting to meet the needs of a developing wedding industry?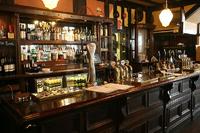 Nowadays, not everyone imagines themselves marrying in the traditional grand estate grounds or country house setting, and over the years, weddings have increasingly broken away from convention. If you're looking for somewhere that you can truly relax and let your hair down (after the all-important photographs of course!) then a pub wedding could be an option to consider.
Although a wedding in a pub might not adhere to traditions of the past, but it is certainly becoming a more popular option amongst couples selecting a venue for reception for their big day. Pub weddings are on the rise, and by making a free house the setting of your wedding, you can achieve that much-coveted rustic, intimate feel when you tie the knot and celebrate with the finest ale in high spirits.
Everyone is welcome
One of the main ways in which the pub industry caters to the wedding industry is that typically, there are no guest exemptions. While some couples choose not to allow children to attend an elaborate evening reception, partly due to their excitable, boisterous nature, the intimacy of pub weddings mean that kids can be kept entertained in the smaller setting. Pubs tend to be more family orientated settings, and this alone has encouraged couples to get all of their nearest and dearest together to celebrate the milestone.
If you've got separation anxiety just thinking about booking your furry friend into the kennels for an overnight stay, then fear not! Many inns and pubs allow dogs into their venues, consider heading to the Northumberland Coast and you'll find plenty of Alnwick hotels where you could wake up the morning after your wedding and go for a fresh, coastal walk with your beloved pooch.
Local specialties
Like us, we're sure you will have frequented a selection of pubs in the past, and maybe you've even got a favourite spot where you're a regular customer.
If you're looking for something a bit different, try taking your pub venue search further afield, as regional twists are bound to offer a whole variety of tasty food and local dishes. Further to this, pubs do not rely on weddings as a sole source of income, so you could secure a great deal when you choose to celebrate saying 'I do' in an inn. Pubs are a quintessential, British tradition but that doesn't mean that they don't move with the times — the hospitality industry has evolved a lot in recent years and you could even enjoy a vegan pub wedding!
Us Brits love a good pub for a variety of reasons, the delicious, hearty food being one factor that keeps us going back. Everything from the beers and ales on tap to the house wine can establish a pub as a favourite, so imagine having all of the things that you love at your wedding?
A modern take on bridal suites
Bridal suites in pubs offer a unique charm, perfect for laid back couples. Many pubs have also added rooms to their facilities, meaning that they can accommodate wedding guests to remove any stress of finding somewhere to stay nearby.
Pubs are versatile spaces, and they can provide a perfect alternative wedding setting, plus they tend to feel cosier than country houses with high ceilings and drafty rooms. Imagine a bridal suite equipped with original beams, classic furnishings, and a hearty breakfast delivered to the door when you wake up as newlyweds for the first time; this kind of comfort is a key selling point for those looking to have their wedding in a pub or inn. What more could you want?
Everything from vintage inns to country pubs nestled in far flung corners of national parks can be transformed into a delightful wedding backdrop, and couples who choose to revise the idea of the classic 'white wedding' enjoy a unique experience, helped along by the pub industry.