The film buff's guide to Malta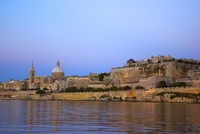 With news that Angelina Jolie has chosen Malta as the location for her forthcoming film with husband Brad Pitt, the spotlight is once again on this Mediterranean gem which is a firm favourite with movie-makers. Brad Pitt first became acquainted with the island filming Troy and later brought his brood to stay while he worked on World War Z.

The favourable tax rates may be one reason (the Malta Film Commission offer various incentives to attract overseas film-makers) but it's the incredible architecture, breathtaking scenery, stunning beaches and historic sites that have secured its status as an ideal setting for blockbusters, Bond films and even top TV series such as the global phenomenon Game of Thrones.

Many of the films have used multiple settings across the island; including The Spy Who Loved Me, For Your Eyes Only and Casino Royale, but if you're looking for some recognizable locations, here's a film buff's guide on where to visit:

Valletta

The island's capital, UNESCO World Heritage City Valletta is steeped in history yet boasts a cosmopolitan vibe and thriving cafe culture.

Places: Stroll along the waterfront and enjoy views of the Grand Harbour, relax in the Upper Barrakka Gardens – once the retreat of the Knights of Malta, visit baroque masterpiece St John's Co-Cathedral with its ornate frescoes by Caravaggio and see the Grandmaster's Palace – home to the President's office and the Houses of Parliament.

Films: Captain Phillips, World War Z, Alexander, The Saint, Midnight Express and Malta Story, to name a few.
Must-do: Visit the Lascaris War Rooms, used in the Malta Story (1953). This is the secret bunker where the defence of Malta and later the invasion of Sicily were managed and it has been faithfully restored using the original equipment. Admission and tour costs €10, open daily from 10 am-5pm.

Mdina

Once the capital of Malta and a settlement of Imperial Rome, the tiny walled city of Mdina is known as the Silent City and is made up of winding cobbled streets and mesmerizing views thanks to its strategic position on high ground. You'll find a spellbinding mix of medieval and baroque architecture.

Places: Historic buildings include the 18th century Vilhena Palace, St Paul's Cathedral & Museum, Palazzo de Piri and the Mdina Dungeons.

Films: Gladiator and The Count of Monte Cristo are two of the best-known films that have used this enchanting setting.

Must-do: Take a carriage-ride around the cobbled streets in a traditional karozzin, departing from the city gates which Game of Thrones fans will recognize. The tour costs €30 for one hour.

Mellieha

Situated in the north west of the island, Mellieha's long beaches with shallow water make it popular with families. It's also home to many rare and protected species of wildlife, as well as Malta's only natural national park, Il-Majjistral Nature and History Park.

Places: Mellieha Air Raid Shelter, St Agatha's Tower – also known as the Red Tower, built in 1647 by the Order of St John, the Sanctuary of Our Lady of Mellieha and Mellieha Beach.

Films: Epic war film Troy, with Brad Pitt, Orlando Bloom and Eric Bana was filmed here.

Must-do: Those with families will love the Popeye Village. Built as the set of the 1980 film starring Robin Williams, it was later turned into a tourist attraction, complete with lido and play pool. Entrance costs around € 14 per person.

Vittoriosa

Known as one of the Three Cities, together with Cospicua and Senglea, Vittoriosa is steeped in history, dating back to prehistoric times.

Places: Visit Hagar Qim - an imposing prehistoric temple built around 3600 BC, as well as the Church of St Lawrence and the Inquisitor's Palace.

Films: 2006 blockbuster The Da Vinci Code used Vittoriosa as well as other settings on the island.

Must-do: Take a boat trip from Valletta in a traditional Maltese fishing boat, known as a dghajsa (pronounced 'daysa' and similar to a gondola) to take in sights including Vittoriosa from the water. The tour costs €20 per adult and departs from Valletta Waterfront every 45 minutes.

Where to stay: The historic Phoenicia Hotel will appeal to film-lovers, having hosted Hollywood royalty for decades; from Charlton Heston and Oliver Reed to Joaquin Phoenix, Pierce Brosnan and Rachel Weisz. Located by the gates of Valletta, it is the ideal base for exploring the island. Buses depart to all other towns from the front of the hotel. Rooms start at just £55 per person sharing, valid for advance online bookings. To book, visit phoeniciamalta.com.