Live for less in the Languedoc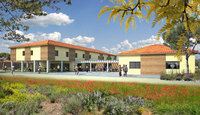 Recent census data has shown that one in six people in England and Wales are now aged 65, the highest proportion ever recorded at this age and a trend we will continue to see in the coming years.
According to Prudential's annual survey, this year's average male retiree's income will be around £18,250 with their female counterparts expected to receive a third less making the cost of living a real concern to those entering their golden years.
Top of that list of concerns is accommodation with many of this baby-boomer generation continuing to live in the family home. Whilst sentiment might may make some reluctant to sell and downsize, for many the impracticalities of a large home not to mention the running costs and possible threat of a future 'bedroom tax' encourages many to consider alternatives.
So as more and more people in their 'third age' see their costs of living rise and their annual income decrease, it is hardly surprising that they are looking for better deals overseas.
Danny Silver, MD and partner of The Villages Group, the first active living retirement village in the Canal du Midi, nestled in the heart of the Languedoc region of South West France comments, "More and more people are recognising retirement villages not only work socially but, in these times of austerity, financially too. Retirement developments are common in the US, New Zealand, Australia and South Africa, and are starting to spring up across Europe as the number of people over the age of 65 now outnumber those of school age in the UK, and soon a quarter of the population will be over retirement age.
"Compared to downsizing and say renting a retirement property, owning your own home in a retirement village such as The Villages allows you to keep a foot in the residential property market and, most importantly, keep active and socialise with like-minded individuals. Here at Canal du Midi, you can live with all expenses covered for under £35 per person per week (including all management; maintenance; land tax and all onsite activities!) which is considerably less than the UK state pension allowance."
Indeed, retirement villages such as Le Village Canal du Midi, offers buyers the chance to remain independent, yet benefit from a wide range of services in one of the top ten countries to retire to in the world. Indeed The Villages Group is pleased to announce a unique easy-move concierge service for purchasers at Le Village Canal du Midi, designed to remove any 'headaches' which moving abroad may bring.
If you are selling your home The Villages Group have specially approved estate agents across all areas of the UK ready to provide premier services and if you require help with finance or equity release FSA licensed specialists are at hand waiting to assist with your every need.
Once you are ready to move, you can count on this complete concierge service to make your move as easy as possible, providing home furnishings, electronics, kitchen appliances, internet and telephones, plus vehicle sale and rentals.
Not only have The Villages Group thought of your every need whilst moving, they also offer a competitive price - cheaper than similar retirement villages in the UK. If you buy before construction starts in June closing costs are abolished, saving purchasers a significant £3,800!
For more information on a cheaper alternative and unique lifestyle choice for the active over 50's, visit thevillagesgroup.com.