Three is the magic number for Network Q customers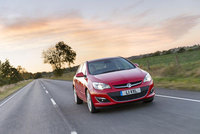 Network Q customers can take advantage of three deals when buying a used Vauxhall including Personal Contract Purchase (PCP) finance packages, up to £500 deposit contribution and the chance to win back the value of your car.

This Network Q PCP campaign rate is available on five selected 12-plate models including Corsa 1.2 Exclusiv 5-door [a/c], Corsa 1.2 SXi 5-door [a/c], Meriva1.4i 16V Exclusiv 5-door, Astra 1.4i 16V Exclusiv 5-door and Astra1.6i 16V SRi 5-door.
And if that wasn't enough, one lucky Network Q customer will win back the value of their car after the promotion finishes on the 29th April.

"We are delighted to introduce this finance offer," said Derek Wilson, Network Q's Operations Director. "PCP Finance allows buyers to drive away a used Vauxhall on a flexible monthly payment programme with a Network Q deposit contribution of up to £500. Plus there's the opportunity for one lucky Network Q customer to win back the value of their car."

Network Q offers its customers peace of mind when buying a used car and they can be assured of the best selection of quality Vauxhalls anywhere in the UK with over 10,000 to choose from in more than 350 retail outlets. Vehicles are inspected by those who know Vauxhalls best: Vauxhall technicians.

Launched in 1990, Network Q was the first national, manufacturer-backed used car programme and is the largest used car programme in the UK and the best recognised in Europe. Network Q has sold over two million used cars to date. For more information on Network Q visit networkq.co.uk.