Mercedes-Benz launches new pricing for service care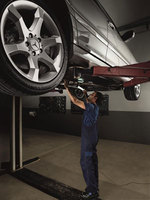 Servicing a new or used Mercedes-Benz has been made even more affordable with the announcement of a new tariff for the Service Care plan, with cover for 10 models now available for less than £1 a day.

The Service Care plan provides motorists with an easy way to budget for all servicing costs and spreads bills in to manageable payments. The price of parts and labour are guaranteed for up to four services and only Mercedes-Benz GenuineParts are used, which come with a two years unlimited mileage warranty. Any additional items which are required at the time of servicing are also included, such as brake fluid, spark plugs, air filter, fuel filer and screen wash.

The exciting new A-Class is now available under the Service Care plan for £22.50 a month – the lowest price that the plan has ever been offered for on a Mercedes-Benz.

With Service Care, the vehicle is only worked on by manufacturer-approved technicians, at any Mercedes-Benz Retailer of choice across the UK. When the service is complete, the digital or hard copy service book will be updated, and if the plan has been paid for upfront, the Service Care package can be transferred to the new owner if the vehicle is sold.

Depending on the model, prices start from less than £1 per day, with payments spread across a choice of options:
Two services spread over 12 or 24 months
Three services spread over 12, 24 or 36 months
Four services spread over 12, 24, 36 or 48 months

Alternatively, Mercedes-Benz owners can pay upfront in a single payment for a Service Care plan, which gives the added benefit of being able to pass on any unused services if the car is sold.

The B-Class Service Care plan now costs from £23.00 per month, new CLA from £24.50, C-Class and SLK from £26.00, Viano, E-, CLS- M-, GL- and R-Class from £29.00, S-, SL- and CL-Class from £40.00, and the mighty G-Class is from £50.00 per month.