Summer adventure in Aspen, Colorado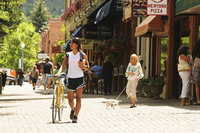 Aspen, home to a plethora of world-class restaurants, historic hotels and beautiful landscapes, has long been recognised as one of the most vibrant and creative towns in the world - one where exceptional cultural and sporting events, and leading institutions come together to offer highly-original programmes for all the family. This is particularly true for the summer months and there is good reason the locals say "you come for Winter and then stay for Summer".
Now it is even easier to book a trip as Aspen has teamed up with bespoke travel company Black Tomato to offer UK families the ultimate summer adventure. Prices start from £2,675 per person based on a family of four travelling, and includes seven nights at the newly re-opened Hotel Jerome, Aspen's most iconic hotel, flights, car hire and special activities.
Catering to the full age range, children and teenagers are guaranteed to have as much, if not more, fun than adults in the majestic outdoor world of Aspen. Here are eight of the most popular family activities available in Aspen:
1. T Lazy 7 – Situated at the bottom of the Maroon Bells, the two most photographed peaks in the whole of North America, is Aspen's oldest working ranch – T Lazy 7. Saddle up on a steed and take a ride into the Maroon Creek wilderness. One hour, two hour, half day and overnight trips are provided by Maroon Bells Outfitters.
2. Aspen Center for Environmental Studies – Get to know Aspen's wilder side at ACES, a wildlife sanctuary and research centre, which educates visitors on the town's natural surroundings with workshops and walks. Families can join an ACES naturalist on one of their free hikes - their sunset beaver walk looks particularly appealing - or children can participate in a range of five day activity programmes. Kids will love meeting the resident golden eagle and learning about all of the local wildlife. It is like a zoo and a museum and a fun hands-on classroom all in one.
3. Aspen Art Museum Summer Workshops – there is a whole host of arty fun to be had at the Aspen Art Museum, one of the world's leading contemporary art institutions. Their summer workshops are aimed at children aged four to fourteen and offer hands-on projects and off-site excursions to inspire young artists-in-the-making.
4. Blazing Adventures – Aspen's most raved about outdoor adventure company will keep any teenage adrenaline junkie satisfied. Their experienced guides make every white-water rafting trip a day to remember, taking groups out onto the Roaring Fork River, the Colorado River and the Arkansas. Blazing Adventures also offers other exciting adventures including rafting, kayaking, jeeping, hot air ballooning and stand-up paddle boarding, the newest craze.
5. Rio Grande Trail – this former railroad corridor goes on for over 40 miles, winding its way along the Roaring Fork River, cutting through the heart of downtown Aspen and finally ending at Glenwood Springs. This trail is popular with families who want to soak up the local scenery and is a big hit with cyclists, as well as skaters, sprinters and walkers.
6. Mine Tours – Aspen's history has deep roots in silver mining and thus its mountains are peppered with old mines. This lasting reminder of the past comes alive with tours of the Smuggler Mine located on the East end of town. The guided tour takes guests into the mine itself and shows how difficult the hard rock mining of the late 19th century was.
7. Family Rodeo – Bring out your inner-cowboy with an authentic Western rodeo that is fun for the whole family with bare back riding, barrel racing, bull riding and of course mutton bustin' for the kids. It is a complete outing with food, drinks and fun for all.
8. Aspen Candy Company – The place to satisfy that sweet tooth – this is a destination you and your kids will adore with over 800 types of sweets including novelty, nostalgic, handmade, and more.
Black Tomato can arrange a bespoke seven night luxury family summer holiday to Aspen, Colorado from £2,675 per person based on a family of four travelling. Activities include a hot air balloon ride, and tickets to the Theatre Aspen festival. Package also includes flights from London to Denver flying with British Airways, accommodation at Hotel Jerome and The Sky Hotel Aspen, and car hire.
For more information and to book, visit blacktomato.com.
For further information on what to do in Aspen, visit aspenchamber.org.