Ampera lays the foundations for Eric Wright Group's fleet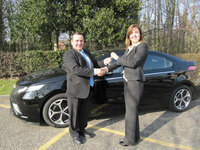 One of the UK's leading construction, civil engineering, property development and facilities management companies, the Eric Wright Group, has taken on a Vauxhall Ampera in a four-year test case that could influence the future of its fleet.

The vehicle will be driven over a four-year period by Steve Openshaw, Plant Manager for the group's Site Support Department, to see how the ground-breaking Extended-Range Electric Vehicle (E-REV) technology in the Ampera will reduce its fleet's annual CO2 and fuel usage.

"As a large construction group we are committed to reducing the effect we have on the environment," said Steve. "I am delighted with the car and look forward to seeing the environmental and financial benefit of running an electric vehicle as a day-to-day company car."

The vehicle will cover more than 70,000 miles during its time with Eric Wright and will be used by Steve for his daily business commutes. Steve has also had EV charging points installed at both his office and his home, which means combined with the E-REV technology in the Ampera, he will not experience any range-anxiety.

"The company directors have also trialled the vehicle and were impressed that it operates just like a normal car; if my test-case vehicle proves successful then we shall look to adding the Ampera to the directors' fleet as well," Openshaw concluded.

Vauxhall's Fleet Marketing and Motability Manager, Paul Adler said: "It is great to hear that the Ampera has had such a warm welcome from the Eric Wright Group. We are confident that they will continue to be impressed by the vehicle for the remainder of their contract."

In November 2012 the Eric Wright Group was recognised by the Energy Saving Trust, receiving the runner up award in the Grey Fleet Management category of its Fleet Hero Awards.