Apartments replace redundant Alpine hotels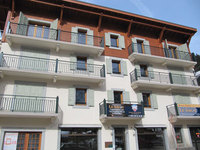 French Alpine developer MGM is breathing new life into former ski resort hotels whose heyday has passed, thanks to the growing preference among families for self-catering accommodation in their own modern apartments.
In some locations, like the Haute-Tarentaise ski resort of La Rosière, MGM replaces rather than converts the hotel.
"In this instance, we removed the former 'sixties-built Roc Noir Hotel, 250 metres from the nursery slopes, and replaced it with a mix of 37 apartments and hotel suites as part of our new Lodge Hemera résidence de tourisme," reports Richard Deans who heads MGM's UK sales office in London's Regent Street (telephone 0207 4940706). "Just a dozen of the two-bedroom apartments are still available to buy at prices starting at €270,000, excluding French VAT of 19.6 per cent which is waived under the leaseback scheme."
Total demolition of a redundant hotel sometimes can be so eye-catching that it leads to sales, according to Richard. He said: "During a skiing holiday in Alpe d'Huez in the Central Alps region, Mandi Plummer from Stamford in Lincolnshire noticed that a former hotel in the newer part of the town had been removed and the site had been cleared for construction of ski apartments, just 100 metres from the ski lift. Having made a note of the developer's name and telephone number from the site board, Mandi and her husband Alan soon found themselves in our London sales office."
Explains Mandi, who says they made their decision to purchase there and then: "We were so keen to buy a four-bedroom family apartment in Alpe d'Huez that our meeting was little more than a formality."
Among the latest hotel conversions to be completed by MGM is Le Savoy in the centre of the a picturesque skiing, alpine walking and mountaineering village of Argentière, seven kilometres from Chamonix and around one hour by car from Geneva airport.
The 1940's building has been renovated and converted into three luxurious three-bedroom apartments, each with dramatic views of Glacier d'Argentière and the Mont Blanc range.
Says Richard: "Le Savoy is located close to the ski area of Les Grands Montets which, at an altitude of 3,295 metres, is accessible by cable car. It offers varied skiing on an array of pistes, wide expanses of off-piste powdered snow in the winter, and a world of extraordinary beauty which attracts alpine walkers in the summer."
Prices of the apartments at Le Savoy range from €740,000 for a property with a floor area of 80 sq m to €810,000 for one of 93 sq m.
For more details or to arrange a viewing at Le Savoy or Lodge Hemera, visit mgm-constructeur.com.