Wild Lochaber Festival showcases region's nature secrets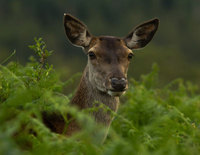 As Scotland celebrates the Year of Natural Scotland 2013, the Lochaber region is getting set to host the second Wild Lochaber Festival. The week-long festival is a celebration of the diverse nature and stunning landscape of the Scottish region that is home to some of the most iconic images of the national landscape – Ben Nevis, Glencoe, the Ardnamurchan Peninsula, the Small Isles…and somewhere where you can watch otters playing in the morning, take a boat trip to see whales, dolphins, basking sharks and sea eagles during the day and enjoy seeing pine martens feed in the evening.
Running from the 18th to the 25th of May the Wild Lochaber Festival casts a spotlight on the Lochaber region's abundant nature and the great outdoors featuring a series of events such as wildlife walks, guided sea kayaking, Land Rover safaris, talks, boat trips, photography competitions and one of the best opportunities to see Scotland's 'Big 5' species – otter, golden eagle, red deer, harbour seal and red squirrel – in a mere half a day on one of eight brand new nature trails that will be unveiled at the festival.
The Wild Lochaber Trails – a series of eight invaluable new wildlife guides to the region – will be launched during the festival with Trail 5, Ardgour & Moidart, featuring the 'Big 5', unveiled by presenter and author, Muriel Gray, at a launch event on Friday 17th May at the Ben Nevis Distillery. This will kick off the week's proceedings in and around the region known as the Outdoor Capital of the UK, the best place in the UK to enjoy the great outdoors.
A number of festival events are free and there are events to suit all ages. Daily highlights include: Wildlife & Historical Walk around Canna Bay (Saturday 18th May), Sea kayaking on Loch Moidart (Sunday 19th May), Knoydart otter walk (Monday 20th May), Rum Geology Day (Tuesday 21st May), Loch Shiel Cruise (Wednesday 22nd May), Landscape Photography day (Thursday 23rd May), Hidden Valleys Walk – Glencoe (Friday 24th May) and The Eigg Qigong experience (Saturday 25th May).
A series of accommodation packages have been put together which run for the duration of Wild Lochaber Festival with bed and breakfast starting at £30pp/pn. For more information on this and the festival, visit outdoorcapital.co.uk/wildlochaber.
Tickets can be bought online, by telephone or at the festival shop, located in Fort William High Street beside the Grog & Gruel.
The shop will be open from 10.00am - 17.00 daily from Saturday the 18th to Friday 24th of May for festival enquiries and bookings. Telephone: 01397 705765.