Property auctioneers achieves £7.8 million in April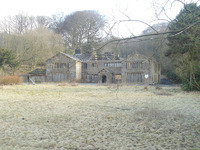 Leading property auctioneers Pugh & Co, along with its residential division The Auction People, achieved sales in excess of £7.8m across its four auction venues in April.
These successes have come as a result of the company's increased variety of lots on offer, working on behalf of more local authorities, national asset managers, banks and receivers as well as the growth of its estate agency partnership network. This month also saw the launch of its online bidding service making auctions available to those who may not be able to attend the venue.
A number of properties across the auctions in Leeds, Newcastle, Manchester and Liverpool were successfully sold on behalf of local councils raising more than double the guide price due to competitive bidding in the room. In Newcastle, the Wallsend Slipway Buildings had a guide price of £35-35,000 and sold for £95,000 and in Leeds the land at Alderscholes Lane in Thornton was guided at £9,000 and sold for £24,000.
The vacant former Aspull Nursery in Wigan was guided at £20-25,000 and went under the hammer for £49,000 at the Manchester auction.
The April auctions were a resounding success for residential properties, with 88% of properties on offer being sold at a total of £2,948,000. The variety of commercial lots on offer, including two Grade II listed buildings, generated significant interest prior to all four auction dates and resulted in total sales of £4,875,000.
Stephen Swainson, director at Pugh and Co, said: "This is a really exciting time for both Pugh and The Auction People. Both commercial and residential sales are going from strength to strength with each auction attracting new buyers and sellers – especially now we can offer an online option for those unable to attend the actual venue.
"The results this month show how people are switched on to the benefits of purchasing at auction. Buyers are being enticed by quicker completions and the elimination of lengthy property chains which cannot be guaranteed by private treaty – ideal for our sellers who are looking for speedy transactions at the best price."
Pugh and Company are now calling for instructions into its June auctions. The closing date for this auction is 8th May. For more information on selling your property at auction, visit pugh-auctions.com.