Nikki Beach lands in Ibiza this summer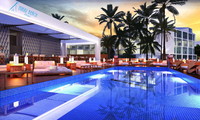 Nikki Beach Worldwide has announced the Grand Opening of its newest location Nikki Beach Ibiza this summer. Pioneers of the beach club concept, the Ibiza opening is Nikki Beach's third Spain and ninth global outpost, thus marking a pivotal point for the brand internationally.
Nikki Beach Ibiza will be located in a magnificent beachfront setting near Santa Eulalia on the island's glittering East coast. Famed for its palm-lined promenade, sandy beaches and an exclusive yacht marina, the area has a long-established reputation for offering a more relaxed pace than other parts of the island, and a thriving gastronomic and cultural offering.
In 1998, entrepreneur Jack Penrod introduced the world to Nikki Beach ? the ultimate beach club concept combining key elements of entertainment, dining, music, fashion, film and art into one. The inaugural Nikki Beach launched in Miami, developing a trend which transcended the decades and has gained an affluent, cultured crowd.
Nikki Beach Ibiza promises to deliver this same 'Ultimate Beach Club Concept' to the White Isle - a luxurious haven for the world's Jet-Set, VIPs and celebrity clientele to recline, dine and immerse themselves in the familiar "Nikki Beach Lifestyle". Modeled on the stylish, contemporary design reminiscent of Nikki Beach locations around the world, Nikki Beach Ibiza will offer the brand's signature beach club with plush, all-white sun beds, chic drapery and white teepees. A terrace restaurant with menus inspired by Nikki Beach's locations around the world will offer seafront dining, the finest champagne and a creative cocktail list. Culinary highlights will include fresh seafood, sushi and salads with an international twist.
The events at Nikki Beach Ibiza will include entertainment by internationally renowned resident and guest DJs, with Nikki Beach themed parties including the popular Grand Opening White Party to mark its Ibiza debut, The Champagne World Tour, the Miami Vibes party, Brazilian Party and Welcome to St. Tropez party, among many others.
Jack Penrod, Founder & Owner of Nikki Beach Worldwide, comments: "Nikki Beach was born to celebrate the life of my daughter Nicole; we did not have any plans for a global brand. However, the magic between our family concept and our customers created a demand which spread globally and today we are announcing our ninth location. Ever since we opened our very first Nikki Beach in 1998, one of the most frequently asked questions has been: "When are you going to open in Ibiza?" I finally have an answer: We couldn't be more excited to welcome our loyal customers from all around the world as well as locals & visitors of the beautiful Spanish island to Nikki Beach Ibiza in summer 2013!"
For more information, visit nikkibeach.com/Ibiza.