Trust thy neighbour? No way, says half of the UK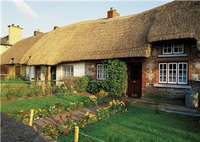 Less than half of people in the UK trust their neighbours, according to new research.
Only 46 per cent of those quizzed for the Yorkshire Building Society Trust Study - a major independent research exercise commissioned by the UK's second largest building society - said they trust the people living closest to them.

A total of 28 per cent do not trust their neighbours and more than a quarter (26 per cent) do not even know who lives next door to them.

Sadly, the problems seem to be on the rise, with younger residents declaring they are less welcoming than older generations. Almost two-thirds (62 per cent) of people aged 55 or older said they trust their neighbours, but only 30 per cent of 16-24-year-olds feel the same way.

Forget popping round to say hello or turning up with a greetings card - only 34 per cent said they would actively welcome newcomers moving to their area.

Scottish and Welsh residents were the most community-minded, with 39 per cent of householders in both countries willing to make new people feel at home, compared to only 13 per cent London.

Nationally, one in ten (11 per cent) of those quizzed admitted being suspicious of new residents, with another 14 per cent saying they were less trusting of people from outside their own communities.

Speaking about the findings, Chris Pilling, Yorkshire Building Society's Chief Executive, said: "The UK has always been very proud of its community spirit but it seems neighbourliness is not as prevalent as we might think.

"At the Yorkshire we pride ourselves in getting involved in and engaging with the communities where our branches are based and where our people live and work.

"We believe that trust is essential and we make every effort to talk to our members, get to know the areas where they live and help support their neighbourhoods so they become shared communities."

Prof Karen Pine, of the University of Hertfordshire's School of Psychology, said: "Social mobility is increasing and fewer people are being raised in and living in close-knit communities.

"This means people are increasingly less likely to form strong bonds with the people who live near them. Many younger people create communities on-line these days, rather than with their neighbours.

"As humans we have evolved with a certain innate mistrust of people who are different; our ancestors would have had to protect their family and food supplies and newcomers might have been a threat to this."