From sailing to swimming, don't miss out on Sarasota's Aquatic Season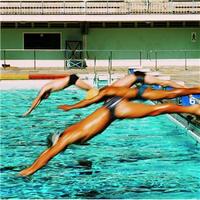 Athletes around the world are dusting off their swim caps, life vests and aquatic sporting gear in preparation for the season of watersport competitions in Sarasota. Guests, spectators and friends are invited to cheer on the competitors. From international competitive swimmers and stand-up paddleboarders to sailboat crews and rowing teams, Sarasota County will serve as host to some of the world's most competitive aquatic athletes in 2013.
Pan-American Masters Championship, June 1 -13, 2013
Sarasota County is the first-ever destination in the United States to host the biennial Pan-American Masters Championship. This swimming championship brings together competitive swimmers, aged 18 and up, from South and North America (including Canada), as well as the Caribbean and Central America. Rob Butcher, executive director of U.S. Masters Swimming, said that the event expects 2,500 entries, with approximately 50 percent traveling from outside the United States to compete.
The Pan-Am Masters Championship includes the three disciplines of pool, open-water and synchronized swimming. The pool swimming events will take place June 5-12 and the synchronized swimming events will take place June 1-4, both at the Selby Aquatic Center, adjacent to the Evalyn Sadlier Jones Branch of the Sarasota YMCA. The open water race will take place on Siesta Key June 13. Since opening in 1998, the Selby Aquatic Center has hosted more than 200 events and is considered one of the finest swimming facilities in the country.
Registration is open to all adult athletes through April 30 and can be completed by visiting: panamericanmasters2013.org/
Stand Up Paddle Board Series, June 22; August 24; October 12, 2013
The Stand Up Paddle (SUP) Board Series is another "first" in Sarasota. Stand-up paddleboarding, often referred to as SUP, the world's fastest growing watersport, has in recent years become one of the most popular modes of recreational travel in and around Sarasota's diverse waterways.
"From our mangrove areas to the canals running past beautiful multimillion-dollar homes, the Intracoastal Waterway, the keys and the islands—Sarasota has all these amazingly diverse environments to enjoy the sport of stand-up paddleboarding," Alfieri said. "With so many unique places to launch from, and so many different kinds of nature represented, Sarasota deserves recognition as a great place for the sport."
Each event will have three race divisions, Elite (6 miles), Open (3 miles) and 100-yard dash Sprint Races. The Sarasota SUP Series benefits Suncoast Charities (SCC) for Children. Following the awards ceremonies, racers are encouraged to stay for the post-race event, during which they will have the opportunity to share the joy of stand-up paddle boarding with a participating child from the SCC. Competitors can register for the SUP Board Series at: sup-sarasota.com/
Suncoast Super Boat Grand Prix Festival, June 29-July 7, 2013
Sarasota will host the Suncoast Super Boat Grand Prix Festival, with parties, fishing, golf, a bikini contest, fireworks and, of course, the boat races off Lido Beach.
For more information, visit suncoastoffshore.org.
US Rowing Masters National Championships, August 15-18, 2013
The U.S. Rowing Masters National Championships will draw master rowers from across the United States to compete in the four-day event. The event will take place at Sarasota's world-class rowing and aquatic sports center at Nathan Benderson Park. The 1,000-meter, 7-lane course at Benderson Park is fully buoyed and includes a starting platform. Races are open to rowers 21 and over, with men's, women's and mixed categories.
For more information about the US Rowing Masters Championships, visit usrowing.org.
US F18 Americas Sailing Regatta, October 22-26, 2013
Sails replace oars at the US F18 Americas Sailing Regatta, hosted by the Sarasota Sailing Squadron. The international, one-design sailing regatta draws competitors from across the globe to Sarasota for a five-day series of racing events. The Formula F18, one of the fastest growing classes in competitive sailboat racing, is an 18-foot-long by 8.5-foot-wide catamaran designed for speed and agility. These high performance racing boats are manned by one skipper and one crew member, and carry three sails—a main, a jib and a spinnaker.
Revolution3 National Triathlon, November 10, 2013
The final event in the nationwide, ten-race Revolution3 National Triathlon series takes place in Venice, rounding out a full season of exciting events for the aquatically-inclined sports competitor in Sarasota County. The Rev3 2013 race series, hailed as one of the most innovative triathlon series on the market, concludes in Venice after a five-month run in cities scattered throughout the nation including Portland, Ore., Knoxville, Tenn. and Old Orchard Beach, Maine.
The half-distance Venice race includes a 1.2-mile swim at Sharky's On the Pier, a 56-mile bike ride on a looped course through Sarasota and Charlotte Counties including Manasota Key and a 13.1-mile run that loops past the beach and onto the Venetian Waterway trail and finishing back at Sharky's On the Pier.
"We are excited to bring a Rev3 race to Florida. Our goal was to be on the Gulf Coast in the fall and we found a great destination in Venice, Sarasota and Charlotte counties ... This is a beautiful area and a great place to host our season ending Rev3 race," said Charlie Patten, president of Rev3.
The Rev3 Venice race comes with a prize purse of $50,000. To get more event information or to register for the race, visit rev3tri.com/florida/florida-news/.