Contemporary design hotel Marti Istanbul unveils new spa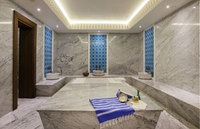 New for 2013, Marti Istanbul is excited to unveil the hottest new city spa in this vibrant city. Located on the top floor of the design hotel Marti Istanbul, 'Mart? Wellness by Spa Soul', is a tranquil space in the buzzing city, a retreat for guests to enjoy during their stay. With a treatment menu carefully selected by Spa Soul, choices include traditional cleansing hammams, tension relieving massages and a spacious sauna and steam room to enjoy at leisure. A relaxing city spa where guests can now be scrubbed, soaped and soaked in typical Turkish style!
The spacious new spa is located on the top floor of the Marti Istanbul which opened in 2012, designed by internationally acclaimed female designer Zeynep Fad?ll?o?lu. The 850 square metre spa is a spectacular Ottoman inspired space, offering five treatment rooms with views over the city, and expansive saunas and steam rooms for both men and women. In a country famed for its hammams, this sophisticated hotel offers two private marble hammam rooms and a bright Roman bath – the most relaxing way to end a day of pounding the pavements and discovering the markets of the city.
In the spa, guests will relax with a Turkish Hammam Bath like no other. An ancient Ottoman tradition, this full body treatment allows the skin to breath following a thorough exfoliation of the body. This leads to an increased blood flow making skin feeling supple and refreshed. One of the most relaxing spa treatments available, in 40 minutes guests will be fully scrubbed, cleansed with soap suds and soaked with warm water, leaving them relaxed and rejuvenated.
As well as the traditional Turkish treatments, guests can choose from a selection of treatments put together by SpaSoul, from algo-radiance facials to foot acupressure. In addition to the spa, on the 11th of the floor of the hotel there is also a hair and beauty salon and a vast state of the art gym looking out over the roof tops of Istanbul – one of best work-out views available.
Guests staying in one of the 31 suites at Marti Istanbul will not only have the extensive spa treatments to enjoy, each of the suites also has their own private hammam, for a traditional way to cleanse at the end of the day in the comfort their own room.
Located in the buzzing commercial district of Taksim, Marti Istanbul is the contemporary design hotel for travellers looking for a luxurious base during their time discovering the city. This contemporary hotel has 270 spacious bedrooms and suites, furnished with the finest Turkish fabrics and art.
Treatments at the new Marti Spa cost from £34 for a traditional Turkish hammam bath (20 minutes). Nightly rates start from €200 (approximately £166) based on two sharing a Classic double room.
For more information, visit martiistanbulhotel.com.