Range Rover Evoque cost of ownership now even more competitive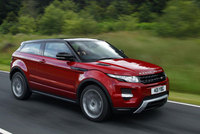 Contributing further to the Range Rover Evoque's highly competitive cost of ownership and strong residual values, Land Rover will introduce a new optional five year service pack for the Range Rover Evoque giving UK customers further value and peace of mind.

The service pack covers routine maintenance according to the official servicing schedule through the Land Rover's nationwide network of Land Rover dealerships and approved service centres, and will be made available to all new customers and owners who have purchased an Evoque since 1st January 2013. The £499 Evoque service pack will provide owners with the confidence that their vehicle will be looked after by qualified Land Rover service advisors and technicians, using genuine parts.

The competitive pricing covers the routine service schedule for five years or 50,000 miles for the Si4 petrol engine or 60,000 miles for diesel engines, whichever comes sooner. Customers will be able to transfer the service pack to a new owner should they decide to sell their vehicle.

The Range Rover Evoque was launched in 2011 and has sold in excess of 30,000 vehicles in the UK market, swiftly becoming Land Rover's biggest selling model worldwide.

Jaguar Land Rover UK Managing Director, Jeremy Hicks said: "The Range Rover Evoque has proved to be enormously popular as a blend of modern design, practicality and capability – in fact over 80 per cent of Evoque customers are new to the brand.

"This is the first time Land Rover has introduced the concept of a service pack which aims to give customers a simple and effective way to look after their Evoque in the early years of ownership through Land Rover experts across the country."

The offer is available now on all new Range Rover Evoque purchases and available to customers who purchased a new Evoque since 1st January 2013. Full details, terms and conditions are available at: landrover.co.uk/approvedservicepack.