100 years on and Vauxhall's 30-98 is still king of the hill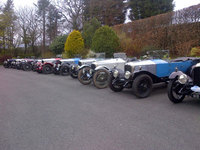 One hundred years to the day after Joseph Higginson achieved fastest time of the day at Waddngton Fell Hillclimb in the first Vauxhall 30-98, 33 surviving models – around 20 per cent of the cars left in the world – charged up the same hill to celebrate the 1913 event that marked the debut of the world's greatest sporting car.

Organised by the 30-98 Register and Lancashire Automobile Club, who ran the event back in 1913, the hillclimb brought together a wide range of 30-98s, from an early Grosvenor-bodied side-valve E-Type to a selection of the later and more powerful OE-type models.

All cars were driven 'with spirit' up the hill (see video link), which was temporarily closed by Lancashire police especially for the occasion. Although MSA regulations prevented the cars being timed, all drivers were aware of Higginson's record time on May 3, 1913 (47.2 seconds on a rain-sodden track) and were determined to recreate his run as closely as possible.

The first 30-98 was built by Vauxhall to satisfy Joseph Higginson's demand for a car to break the outright record at Shelsley Walsh Hillclimb, in return for which he would hand over a cheque for £2,000 to Laurence Pomeroy, Vauxhall's Technical Director. Higginson's car was completed on the evening of May 2, 1913, and the following day he set fastest time at Waddington Fell, convincing the factory that it was on to a winner.

Britain's first car to achieve over 100mph, the 30-98 was built between 1913 and 1927, during which time 600 cars were produced at Vauxhall's Luton factory, of which nearly a third survive today.