Cool classic cars that are perfect for a collector on a budget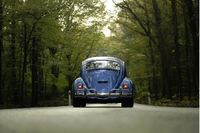 Owning a classic car can be a rewarding experience for a variety of reasons, but you might assume that you need a lot of spare cash to splash if you want to get into this scene.
Thankfully there are actually quite a few cost-effective classics that could help you scratch your automotive itch without leaving a big dent in your bank balance. Here are just a handful of super-cool classics that could be an affordable way to expand your collection.
Porsche 944
If you are a fan of European sports cars then owning a Porsche could be a lifelong dream. While the 911 Turbo might get all of the attention, the 944 is becoming a more popular collector's option, especially since its 80s aesthetics are looking cooler by the year.
Ideally opting for the 944 Turbo will give you a good balance between value for money and desirability. It's a solid option because their investment potential makes sense, and the 944's star seems to be in the ascendant at the moment.
One thing's for certain - there lies an incredibly lucrative market for vintage cars, with companies like classic cars for sale connecting sellers and buyers.
Volkswagen Beetle
Another bona fide classic, the VW Beetle oozes 1960s charm, even though the earliest models actually date from over 20 years earlier.
Well maintained models can still cost quite a lot of money, but you can bag a bargain if you are willing to settle for an example that is in need of a bit of TLC. Beetles made in the 1970s are amongst the most common to find today, although older examples are also available and some are even worth more if the original accessories are present.
Chevrolet El Camino
Higher profile American muscle cars can reach exorbitant prices when they go under the hammer or trade hands at a private sale, but you can still get a taste of big engines and aggressive styling if you are a budget-conscious collector thanks to the Chevy El Camino.
The unusualness of the car's design, with its low-slung body, 2-seater cabin and pickup-style load bed all help to add to appeal, making it a performance-focused vehicle which is also fairly practical. Of course this practicality does mean that finding a well preserved example is not always easy, even if prices remain reasonable.
MGB GT
Britain has produced some seriously good looking and now insanely valuable sports cars over the years, but since not everyone can afford the asking price of a Jaguar E-Type, the MGB GT can step in to be a suitably stylish alternative.
With its refined design, its well-appointed interior and its retro mystique, there is a lot to like about the MGB GT, with its price point being the icing on the cake.
BMW 3 Series
The 3 Series is still going strong today, so you might not think of it as a classic. Of course if you look all the way back for the first and second generation models which were released in the 1970s and 80s, you can find some seriously head-turning vehicles which have aged very well.
If you are willing to push the boat out a little, the initial E21 models are a good bet, although those in the E30 generation can be more attainable from a financial perspective. In other good news, older 3 Series models tend to be quite reliable in classic car terms, as well as being relatively inexpensive to maintain, which could all be factored into your decision-making process when considering the various cool, cost-conscious models available.