Chelsea or Colombia? - The Medellin Flower Festival, Colombia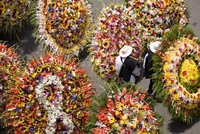 Next month the famous Chelsea Flower Show will take place in London; alternatively you could take advantage of a unique, new, 11-day trip created by Chameleon Worldwide and head for the spectacularly colourful Medellin Flower Festival which takes place in Colombia during the first 10 days of August each year.
The festival is a flower-filled celebration made up of over 140 events from musical performances to horse shows, colourful parades and pageants.
The itinerary commences with a walking tour of the capital city, Bogota, before heading to Medellin where three days are spent enjoying the fiesta.
The final day of the festival is considered to be one of the best to attend, when the Silleteros parade takes place; men, women, and children proudly carry on their backs a floral depiction of their lives, land and culture. Other events include musical performances, horse shows and Chiva show where the traditional brightly coloured buses are paraded through the city.
From Medellin, a short flight is taken to Cartagena on the Caribbean coast for a walking tour of the fascinating colonial town.
The following day can be enjoyed at leisure or why not take a boat trip to the Rosario Islands to soak up the sun on the beach or go snorkelling?
That evening, there is an option of a horse-drawn carriage drive through Cartagena with dinner.
The final part of the holiday includes a visit to the fully-functioning Zipaquira Salt Cathedral, a unique building which was constructed approximately 120 meters underground in a former salt mine.
The holiday can depart on any date to coincide with the festival and costs from £2100 pp (two sharing) which includes international and domestic flights, all land transportation, 10 nights' accommodation and some meals.
For more information, visit chameleonworldwide.co.uk.