Ashes to Alice for 2013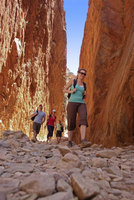 England's famous Barmy Army can support the England team at a new venue later this year when they take on the Chairman's Tour XI in the iconic outback town of Alice Springs. The game will take place at Traeger Park between the 29th and 30th November 2013. Fans visiting Alice Springs for the match will be able to see the game played against the backdrop of the famous MacDonnell Ranges.
Fleur Burrows, Regional Manager for Tourism Northern Territory says: "It is hotting up in Alice Springs in anticipation for the Chairman's XI tour. We are incredibly excited and privileged to be hosting England's cricketing elite. The match will help us to encourage fans to visit the heart of Australia's Red Centre where they will get a feel for the real outback. Alice Springs is also the gateway to the wider region which includes the icons of Uluru, Kata Tjuta and Kings Canyon."
The England International Test team will arrive in Alice Springs on a private jet chartered by Qantas on 26th November following the first Test in Brisbane. The England team will depart Alice Springs on the 1st December to Adelaide in preparation for their second Test.
The pioneering town of Alice Springs is situated between the East and West MacDonnell Ranges. Once the cricketing action has ended fans can enjoy an abundance of Aboriginal art galleries and visits to some of the outback town's renowned attractions such as the Royal Flying Doctor Service and School of the Air.
For more information about the Northern Territory, visit australiasoutback.co.uk.