Peugeot piles on the performance at this year's Festival of Speed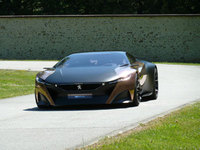 The stunning Onyx Concept Car leads an exciting line-up of performance Peugeot vehicles at this year's Goodwood Festival of Speed, with its first public dynamic demonstration. More Peugeot vehicles will also be demonstrated dynamically, while on the Peugeot stand attendees can take part in an exciting and refreshing experiential activity with key performance vehicles displayed at this automotive extravaganza, now in its 20th anniversary year.

The Peugeot stand is promising to be an exciting centre-point with a 208 GTi inspired 'flow rider' surf experience placed between new RCZ Sports Coupé, 208 GTi, luxurious 208 XY and competition versions of 208 on display. Participation in the 'Enjoy the Ride' GTi activity links fun, thrill and agility with control, to experience speed of a different kind, with the chance to 'ride the waves' and can be pre-booked ahead of the day itself. Developing Goodwood news can also be viewed at Peugeot.co.uk/gfos.

Dynamic concept comes alive: Peugeot Onyx Concept car

With most concept cars usually being modelled for static appreciation, the Peugeot Onyx breaks the traditional mould with superb authenticity, innovative use of materials in its construction and performance to impress with this futuristic supercar.

Within the carbon fibre shell sits a mid-mounted 3.7-litre V8 HDi FAP diesel-electric hybrid power unit developed with the expertise of Peugeot Sport and the experience acquired from racetracks the world over. NACA ducts in the double-bubble roofline supply the intake for the diesel V8 to transmit 600bhp to the rear wheels via a six-speed sequential gearbox.

Intelligent HYbrid4 technology recovers kinetic energy stored in lithium-ion batteries, to be redeployed to enhance acceleration, boosting the power by 80bhp, to give this 'Concept Car' less than 2kg per horsepower, which means Onyx achieves high performance without altering the purity and elegance of its exterior style.

The exterior is fashioned by hand by a master craftsman, the wings and doors are of pure copper sheet, polished to a mirror finish and left 'unprotected', so that over time the appearance will gain a patina – thus Onyx is alive and going green!

208 GTi – the performance pocket-rocket

The much-lauded 208 GTi brings a new dimension to the world of the performance (hot) hatchback with a lighter, more powerful, more capable and sure-footed pocket-rocket performer. Propelled by a 200bhp THP petrol engine, the 208 GTi is a stylish, well-specified, no-compromise performance hatchback with wider tracks (10mm at the front and 20mm at the rear), distinctive and exquisite attention to detail features. Being lighter than its predecessor it is capable of reaching 62mph in 6.8 seconds, can top 143mph, has CO2 at just 139g/km and yet can achieve 47.9mpg.

The Peugeot signature 'Motion and Emotion' is being fully played out at this year's Goodwood Festival of Speed hillclimb and is certainly a brand on the move upmarket.