Peugeot solves commuter's 'last mile' problem with the innovative eF01 folding electric bike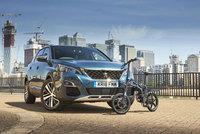 Peugeot has launched an integrated car and electric bike mobility solution, the all-new Peugeot 5008 SUV and the eF01 Electric Bike.
The aluminium-framed eF01 electric bike weighs just 18.6kg, is fitted with a battery and a motor with enough charge for up to 18-25 miles in range and will propel riders at a top speed of 12.5mph.
In the UK, 36% of UK motorists commute to work, but parking challenges mean that many may still have to find another mode of travel to complete the 'last mile' to their workplace. The issue is even more of a problem in London, with 46% of the capital's drivers concerned about parking.
Peugeot's unique, fold-away electric bike integrates neatly into the boot space of the all-new 5008 SUV with a mobile charging dock, giving commuters an on-board solution to conquer the final part of their journey.
The all-new Peugeot 5008 SUV offers urban drivers a premium SUV with a range of advanced safety technologies. Its class-leading modularity and versatility make it an ideal partner for life in the city with excellent handling and ride. The two removable, separate, folding seats in the third row allow for flexibility, which enables an impressive load space of 952 litres as well as extra legroom.
BMX star, Kriss Kyle and 2016 Ladies FIA European Rally Champion, Catie Munnings, took to the streets of London to showcase this complete, all-in-one transport solution for the city commute.
Gilles Vidal, Director of Peugeot Design, said: "The all-new 5008 SUV has been a huge success – selling 42,000 in Europe since launch in 2017 and almost 3,000 vehicles in the UK since launch in January 2018.
Spacious, versatile and packed with the latest technology, we felt the Peugeot 5008 SUV was the perfect vehicle to pair with our first electrically assisted folding bike.
"Peugeot is the only brand that offers two wheel, three wheel and four wheel mobility solutions which are manually powered, electrically assisted, hybrid, fully electric or equipped with an internal combustion engine. Thanks to this enormous flexibility in our range we can offer a mobility solution for every requirement. Together, the 5008 SUV and eF01 electric bike combine two modes of transport to create a complete door-to-door solution, no matter what your destination might be."
Kriss Kyle, BMX champion, said: "The eF01 is a fantastic bike to ride – it's great fun and practical. I was delighted to be a part of this project and I think it's brilliant that Peugeot have created a solution for the last mile, which means people have the option to drive their car and cycle their bike."
The eF01 electric bike can be charged on a mobile docking station in just 60 minutes and can be folded and unfolded in less than 10 seconds. The combination of the 5008 SUV and the eF01 bike creates an ideal solution to be able to travel anywhere.