The new Peugeot 308 GTi by Peugeot Sport launches in UK to a splash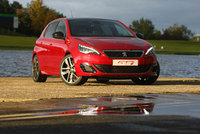 Ahead of the official UK launch of Peugeot's performance model, the forthcoming 308 GTi by Peugeot SPORT, Peugeot UK took one of the first right hand drive production models in the country to the National Water Sports Centre in Nottingham for a challenge to demonstrate the new model's sporting credentials.
Joining Peugeot at the 2000m lake was PowerboatGP – an organisation that stages a number of competition events and the annual F2 Nottingham Grand Prix championship at the National Water Sports Centre in Nottingham – who provided an F2 Powerboat. The two high performance machines were pitched against one another on two completely different surfaces.
Both have been developed to perform with great efficiency and with each having advantages for different elements of the challenge, the event revealed how closely matched the two machines were – the Powerboat, while quick off the start, was very closely matched by the highly-tractable 308 GTi car. While the Powerboat soon reached its terminal velocity, limited by surface conditions and wind direction, the GTi just kept accelerating, even on uneven surfaces, demonstrating the high levels of grip enhanced by its TORSEN differential.
Both are agile and responsive, the Powerboat able to turn within a few lengths, the Peugeot able to change directions on demand too, albeit driving around the perimeter of the main lake at the National Water Sports Centre (in Nottingham) had the longer route to overcome.
Finally, though the specially developed Michelin 235/35 R19 91Y Michelin Pilot Super Sport tyres have much more friction than a propeller and therefore allows for greater propulsion, the boat is much lighter and smaller in frontal area, so has less to move in its quest for performance. Equally, equipped with 380mm race-inspired brakes, it has the capability to arrest its speed should the need arise.
The film of the event is available now on Peugeot's official YouTube channel, perfectly capturing the comparison, and in the process some compelling shots of the two enjoying their impressive performance capabilities.
Here is the link to the film: 308 GTi vs F2 GP Powerboat
On the day, the 308 GTi was driven by Bradley Philpot, a Peugeot UK Brand Ambassador with its track cars and the F2 Powerboat piloted by Colin Jelf, an F2 champion. Bradley also has powerboat links – his grandfather, Robbie Hood, was a British open-water powerboat champion too.
Potentially interested thrill seekers can follow PowerboatGP.co.uk to see these exciting activities, but for first-hand daily thrills, the 308 GTi by Peugeot SPORT is all the more readily available and of course brings many more real-world practicalities, with a wide-variety of performance credentials.
Peugeot UK wishes to thank the organisers and management at the National Water Sports Centre in Nottingham and PowerboatGP for arranging a competitive F2 Powerboat.