The award-winning Peugeot 308 is ideal for '65-plate' from 1st September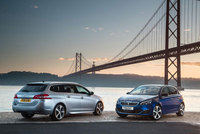 Performance, style, economy, efficiency and versatility – the Peugeot 308 is the one car which has it all. The 2014 European Car of the Year winning compact family hatchback is the perfect choice if you're considering a new '65-plate' model from 1st September.
Over 22,000 have been sold in the UK since the car was launched 18 months ago and its striking design has been key to that success.
The 308's sleek exterior gives the car a genuine contemporary presence on the road, though it's the beautifully executed cabin that has stolen the hearts from many discerning drivers. The premium Peugeot 'i-Cockpit' interior is a real game-changer for Peugeot. Driver-focused and minimalist, like nothing else in the segment, it offers a state of the art 9.7-inch touchscreen which takes in-car infotainment to a high level.
The beating heart of the 308 is its range of ultra-efficient PureTech petrol and BlueHDi diesel engines. Mated to a choice of advanced manual or automatic transmissions, the result is exceptional environmental performance, no matter which model is chosen. Combined Cycle fuel economy is as high as 91.1mpg with CO2 emissions as low as 82g/km – figures with mouth watering appeal to both retail and corporate customers.
For drivers seeking extra practicality for families or larger loads, the 308 SW makes an excellent 'head and heart' choice. Its generous boot space is among the best in the segment with an impressive 660 litres below the parcel shelf, including 70 litres hidden under the boot floor for extra security. 'Magic Flat' rear seats are standard and the 'instant folding' system – available thanks to levers accessible on both sides of the boot – is simple and intuitive to use. For outstanding versatility, it creates a flat floor and a massive 1,660 litres of luggage space.
With prices starting from only £14,995 for the hatchback, there's a Peugeot 308 for every customer. The high level of standard equipment across the range includes DAB digital radio, air-conditioning, remote central locking and cruise control.
From Access trim, through Sportium, Active and Allure, the specification is a desirable mix of comfort, convenience and technology. Broadening the range further, the 308 GT adds a touch of performance, with the choice of a 1.6-litre e-THP 205 manual, or 2.0-litre BlueHDi 180 automatic under the bonnet.
The 308 GT is supported by the 308 GT Line, which features much of the look of its sporty sibling but with a wider range of economical engines.
The letters 'GTi' have long been associated with Peugeot performance and after a triumphant unveiling earlier this summer at the Goodwood Festival of Speed, the flagship 308 will soon be in Dealerships. Developed by Peugeot SPORT, it's designed to offer a thrilling and unparalleled driving experience with power outputs of 250hp and 270hp. It will be available on a 65-plate from November.
Paying for your new 65-plate Peugeot 308 couldn't be easier. Passport finance is ideal for customers who like to change their car every three years, and means fixed monthly payments for simple budgeting.
For example, you can drive away a new Peugeot 308 Active 1.2-litre e-THP 110 S&S (RRP £18,065), with a deposit of £2,840 and 36 monthly payments of just £225. That includes a Peugeot incentivised deposit contribution of £700.
It all adds up, so chose any number, and then …
Add the number of models currently available in the 308 range (Add 28)
Multiply that by the current number of trim levels available on 308 (Multiply by 6)
Subtract that number by the number of cylinders of the PureTech engine (Subtract 3)
Divide the number of types of paintwork - solid, metallic & pearlescent (Divide by 3)
Subtract the original number (Subtract the original chosen number)
Then add the number of colours of 308 (Add 11)
Subtract the original number (Subtract the original chosen number)
Add the number metres the 308 can easily turn within, between kerbs (Add 11)
Multiply this number by the number of cylinders in the BlueHDi engine (Multiply by 4)
Voilà
The Peugeot 308 – in numbers
140kg lighter than its predecessor enhancing agility and performance
70kg attributed to the new EMP2 (Efficient Modular Platform 2)
3kg saved by a world-first tailgate formed from composite thermoplastic
3g/km of CO2 can be saved when fitted with Ultra Low Rolling Resistance tyres
82g/km BlueHDi 120 S&S models
91.1mpg economy on the Combined Drive Cycle
93g/km is the lowest CO2 model (1.6-litre HDi 92) at launch, with …
78.4mpg economy on the Combined Drive Cycle
4.25 metres in length, just 1.46 metres high and 1.80 metres wide
31 LEDs feature in each Full LED headlight
9.7" colour touch screen controls central functions
351 x 329mm is the size of the compact steering wheel for handling agility
863 and 770mm front and rear overhangs and a 2.62 metre wheelbase
470-litre hatchback boot volume extends to 1309-litres utilising all of the interior space
82 to 270hp petrol, 92 to 181hp diesel engines
0.28Cd for an excellent aerodynamic shape performance
130hp and 110hp 1.2-litre 3-cylinder petrol models arrive in spring 2014
99.9% elimination of diesel particulates with FAP
10.4 metres turning circle between kerbs for benchmark manoeuvrability
12-litre cooled glove box and 3.7-litre front door trays
2 million test miles covered before launch
116 patents filed in the development of the new 308