Gatsby puts roaring twenties fashion back on top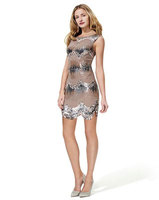 Fashion first made popular in the glamorous twenties is now making a comeback thanks to Baz Luhrmann's cinema adaptation of The Great Gatsby, says department store Debenhams.

The fashion retailer has seen sales increases of up to 266% on products including beaded capes, lace dresses, pearls and twenties style eveningwear.
Sales of feather accessories such as capes and head pieces have increased by over 250%, and impactful costume jewellery such as bold diamante encrusted bracelets and extravagant strings of large golden pearls are up 200% versus this time last year.
Says Michelle Dowdall, Debenhams spokesperson, "Twenties style regalia is back! Our customers are snapping up accessories and womenswear to get the Gatsby look – feminine, flapper style is fast becoming one of spring's hottest trends.
"The beauty of this trend is that women can go big or small. A simple feather and pearl hair clip gives a subtle nod to Gatsby, or for full-on twenties glamour, women can wear gorgeous sequinned dresses with scalloped hems and lace by eveningwear designer Jenny Packham, accessorised with strings of pearls."
Hair jewels and beaded capes favoured by Gatsby's love interest Daisy Buchanan have been popular with customers, with sales increasing by 73% and 250% respectively in the past week alone.
Menswear is also seeing a Gatsby influence on sales, with tuxedo jackets and formalwear up 60% versus this time last year.
Continues Michelle Dowdall, "With the opulent party dresses in the film adaptation of Scott Fitzgerald's novel provided by the likes of Prada, and tuxedos from Brooks Bros, it was inevitable that men and women would want to emulate the beautiful twenties fashions seen on set."
The twentines trend has also spilled on to the fashion catwalks in recent years, with Marc Jacobs, Gucci and Roberto Cavalli all causing a flapper frenzy with their SS12 collections, and hitting the high street in time for Gatsby fever.
Debenhams top ten Gatsby products
1. Gold, floor-length sequin dress, No.1 Jenny Packham
2. Feather bead spray head band, No.1 Jenny Packham
3. Lace and beaded dress, Debut
4. Sparkle head band, Mood by Jon Richard
5. Beaded capelet, No.1 Jenny Packham
6. Strings of pearls, Mood by Jon Richard
7. Scalloped hem sequin dress, No.1 Jenny Packham
8. Diamante sandals, Faith
9. Diamante graphic box clutch, J by Jasper Conran
10. Faux fur occasion shrug, J by Jasper Conran
Customers can get the Gatsby look for as little as £20 with a simple accessory, or go all out with a dress, bag and head piece for under £200 at Debenhams.
Luhrmann's The Great Gatsby opened the 2013 Cannes film festival, and was released in the UK on 16 May.