New Ford Transit Custom stars at Cannes Film Festival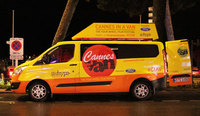 Movie fans at the 2013 Cannes Film Festival will once again be able to watch the cream of independent film as the Ford-supported "Cannes in a Van" team hits the streets in their Transit Custom movie theatre.

Powered by Ford for a second year, and featuring the new Transit Custom as their support vehicle, the film enthusiasts behind Cannes in a Van will champion independent film at an expanded range of festivals and events in 2013, including the spectacular annual Van d'Or Film Awards in September.

The Cannes in a Van programme kicks off with its annual visit to the glamorous Cannes Film Festival, where the Ford Transit will enable film fans to view screenings of independent movies. These include the 2012 Van d'Or Awards winners and nominees while the van is parked on the Boulevard de la Croisette near the festival site in Cannes.

Andy Greenhouse, Cannes in a Van co-founder, said: "Inspired independent productions like '82' and 'Taking Life' made our 2012 Awards a special occasion, and it's a real privilege to take films like these down to Cannes and give them much-needed exposure within the festival. We're also really excited to have the new Transit Custom as our home for the sixth year of Cannes in a Van."

Following its 2013 pilgrimage to Cannes this month, the Ford Transit Custom – complete with its signature yellow and orange design – will support a variety of other film festivals and 'pop-up' events in Europe. The year culminates with the international Van d'Or Awards for independent film which will be held in September in London.

The Cannes in a Van team's long-wheelbase Ford Transit Custom has been specially prepared for its role as a four-wheeled film festival, featuring a 55-inch plasma screen in the load area to display the films. To help movie goers locate the vehicle, roof-mounted advertising panels have been created, which are fixed to the Transit Custom's unique integrated roof rack system.

Winner of International Van of the Year 2013 and the first vehicle in its segment to achieve a maximum five-star Euro NCAP rating, the all-new Ford Transit Custom offers class-leading load-carrying ability, best-in-class fuel economy, and advanced Ford vehicle technologies including Ford SYNC with Emergency Assistance, Rear View Camera and Lane Keeping Alert.