Ten hotels for Star Wars fanatics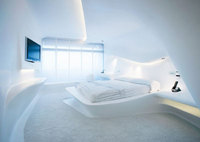 With the new Star Wars film currently smashing box office records, the desire for a Sci-Fi themed holiday has never been higher. Hotel search website trivago.co.uk has selected ten Star Wars themed hotels, each featuring futuristic technology or a unique space theme. From a stargazing base in a Spanish National Park to a hotel manned entirely by robots and the world's first hotel-based 3D telepresence system, these hotels promise something different for lovers of space, design and technology. Spend the night here to awaken the force in you.
1 Silken Puerta América, Madrid
Each of the 12 floors of Silken Puerta América Madrid host different room concepts, using different materials, colours and shapes to present the traveller with 12 ways of understanding architecture and design. Star Wars fans should head directly to the first floor, where the "Space Club" rooms designed by Zaha Hadid can be found. These are available as Queen-sized rooms or Junior suites, with a choice of black or white, baroque or modernist interior design. Unusual shapes and fluid lines create an unearthly atmosphere perfect for any Sci-Fi fan. Other unique hotel features include a futuristic swimming pool created from stainless steel and a rooftop bar with a retractable roof system.
2 NH Collection Madrid Eurobuilding, Spain
Futuristic in both design and technology, the NH Collection Madrid Eurobulding boasts a huge, curved and seemingly never-ending LED screen in the lobby – the largest of its kind in Europe. Guests will feel like they've stepped into a parallel universe as they are able to charge their mobile devices wirelessly and speak to reception via video supported-tablets from the comfort of their hotel room. In keeping with the futuristic theme, all rooms boast an ultra-contemporary décor, with the VIP level designed exclusively by Luis Galliussi. The technology which is light years ahead, however, is the 3D telepresence system, which allows guests to interact with people remotely via hologram.
3 Yotel New York City, USA
Instead of check-in staff at Yotel New York City, the hotel has appointed the world's first robotic concierge, a one-armed luggage robot named Yobot. Guests operate Yobot by touchscreen, who stores and retrieves luggage – all from behind a glass screen. With 'cabins' instead of hotel rooms, 'Misson Control' instead of concierge services, and a distinctly spaceship-themed décor of white furniture and purple lights, Yotel is perfect for Sci-Fi lovers. Other futuristic touches include automated check-in and check-out, a 'techno wall' in each room, electronically-controlled beds in the premium cabins and a mobile app with city guides and insider tips.
4 Aire de Bardenas, Tudela, Spain
Located in the 150 square mile Bárdenas Reales National Park, Aire de Bardenas is the perfect location from which to enjoy views of the unpolluted night sky. Their stargazing pods (pictured) enable guests to do so from the comfort of their hotel beds. The rest of the hotel is constructed from futuristic self-contained cubic blocks, with large windows which create something of a mirage by reflecting the surrounding desert. Amenities include 24-hour room service, speedy Wi-Fi, flat screen TVs, and a range of indoor and outdoor bathtubs.
5 Icehotel, Jukkasjärvi, Sweden
Creating the Icehotel is something of an art form; each year, ice from the frozen Torne River must be extracted and stored in a large warehouse with sub-zero temperatures. Next, artists from all over the world arrive, eager to showcase their work in 19 individually-designed suites. Since the hotel melts each spring, no two years are the same and the hotel is constantly evolving to reveal the latest in art and design. Sleeping in a room with no windows, constructed entirely from ice and snow is a unique, other-worldly experience. Before bed, guests can also marvel at the clear night's sky and may even be lucky enough to catch a glimmer of the Northern lights.
6 Kameha Grand, Zurich, Switzerland
Aspiring astronauts should heat straight to the Space Suite on the fifth floor, designed by Michael Najjar in an attempt to recreate outer Space. Minute attention to detail is key here, with a carpet printed with high res images from the Hubble Space Telescope, a floating "zero gravity" bed, imitation rocket spotlights and artwork of astronauts and galaxies adorning the walls. Guests can browse the extensive range of space-themed literature, music and films or enjoy a view of their very own Milky Way from the luxurious steam bath tub.
7 Treehotel, Harads, Sweden
While creating treehouse-style rooms entirely in harmony with their surroundings, the architects of Treehotel decided to develop one creation from a completely different environment. Enter the UFO: a spaceship suspended five metres above the ground in one of the northernmost locations in Sweden, just 50 kilometres from the Arctic Circle. Accessible by a spaceship-style ladder, the UFO is cast in durable composite material for a light yet strong design. Up to five people can sleep here, with the space-theme continuing throughout the interior design to create a hideaway perfect for Star Wars fans.
8 Pengheng Space Capsules Hotel, Shenzhen, China
A capsule hotel might not be everyone's dream, but there is something undeniably other-worldly about this futuristic hotel design popular in Japan and China. The Pengheng Space Capsules Hotel captures this perfectly, with not one hotel employee in sight; instead, guests are greeted and served by robots. The hotel has a space-theme reflected in every aspect of its interior design, from the blue and purple interior lights to the "sleeping pods", complete with a control panel to activate the flat screen television and other room features.
9 Wanderlust, Singapore
Situated in Singapore's Little India neighbourhood, Wanderlust describes itself as an enclave for adventurers. The four-story boutique hotel is a unique amalgamation of different design agencies, working together to create a hotel where no two rooms are the same. Star Wars fanatics should head directly to 'Space' themed loft rooms on the top floor of the building. Available in both blue and red, these multi-level rooms feature friendly space creatures and walls and ceiling designed to recreate the Milky Way.
10 AC Hotel Bella Sky Copenhagen, Denmark
A futuristic design hotel which would be better suited in China than Europe, the 812-room Bella Sky hotel is one of the largest in Scandinavia. The two towers tilt away from each other at an impressive 15 degree angle, while the interior is matched with original Nordic design furniture. Futuristic touches can be found throughout, from the latest in-room technology to the greenery of the balcony restaurant. Guests should head to the rooftop Sky Bar for views over the Copenhagen skyline, where hanging chairs and impressive light installations might make guests feel like they are floating above the earth.
For more information, visit trivago.co.uk.