A haven for lovers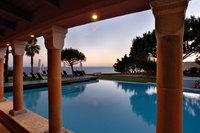 Intimacy, privacy, romance, luxury and excellence – these are all good adjectives to describe this unique boutique hotel, located just a 5-minute drive away from the picturesque town of Lagos. With its historical building, wonderful food and panoramic ocean views, the boutique Hotel Vivenda Miranda is the perfect setting for a special romantic retreat in the Western Algarve.
Prepare to be pampered and create long lasting romantic memories in a privileged location. Experience first-hand its unique activities, such as romantic Sunset cruise trips, grotto tours, horse riding, golfing or a unique VIP surf venue…The choices are endless and the experience will be unforgettable!
This boutique Hotel - part of the Romantik Hotel Group, which comprises over 200 hotels in 10 countries - features 25 individually decorated and furnished bedrooms, all with private terraces affording uninterrupted views of the Atlantic Ocean and the resort's mature and manicured gardens. Accommodation in this former private home of a 17th-century noble family offers comfort and attention to detail, combining Portuguese influences with a more contemporary style. The hotel has kept up with the times, and most Deluxe Rooms, as well as the lavish Boutique Grand Suite, feature a stylish and modern design.
Boasting a large terrace with spectacular views, the fine dining Mirandus restaurant is the culinary heart of Vivenda Miranda. Using mostly organic and locally-sourced ingredients, Mirandus offers modern Mediterranean-style cuisine with an exotic touch, courtesy of Chef José Ramos. Perfect for a comforting breakfast, relaxed lunch or romantic dinner (also available is the option of organising a private candlelit dinner), the restaurant provides a discerning and friendly service. The wine list features around 60 Portuguese labels and only the best French Champagne.
For those who are looking for indulgence, the luxury Wellness Spa Suite invites guests to relax in one of the three treatment rooms, where experienced therapists will pamper both body and soul with natural products by Thai brand Mt. Sapola. Using hand-picked herbs and essential oils, the Spa Suite covers 400 square metres and features signature treatments such as the Soul of the River Body Massage, a complete Thai-style massage, salt scrub and aromatic body mask, and the innovative Hot Soap Stone Massage, which uses warm aromatic soaps. Also available is a sauna, Turkish bath, foot baths and tepidariums, as well as a new addition, the rasul room.
Performed in a purposely built sauna-style tiled room, the rasul is an ancient Arabic bathing ritual that uses specific mineral-rich muds along with steam and heat to help cleanse, exfoliate, absorb toxins and improve skin and muscle tone.This therapeutic treatment is now very popular amongst high-end spas and can be complemented by one of the Spa Suite's massages. Enjoy yourself and spend some quality time with your loved one.
For further information, visit vivendamiranda.com/uk/home.