It's not just any test drive offer says MG!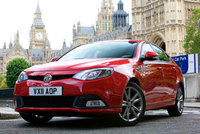 MG dealers are offering everyone who takes a test drive in a new or used MG6 a mouth-watering special reward.

Between now and the end of June, anyone who takes a test drive will automatically qualify for a very tasty 'dine in for two' dinner from Marks & Spencer, worth £10.

Clint Cordle, MG's Head of Marketing said: "It's a really nice way for us to be able to say 'Thank You' to everyone who takes a test drive and we're expecting to get a great response.

"We've got a fantastic range of new and used MGs and we're getting more interest all the time, particularly as the new DTi-TECH diesels have been added to the MG6 range.

"As well as the dinner on us reward for taking a test drive, we've got some tremendous finance offers on the award-winning MG6 range. So it's another reason for people to go along to an MG dealer or make contact with us."

The offers include help with finance deposits of up to £2,500 on new petrol models. While fans of the British Touring Car Championship who buy an MG6 BTCC Edition model can get race tickets and special team race wear for free.

For people who tow caravans or trailers, there's more good news. MG is offering a free Witter tow bar with every MG6 DTi-TECH model sold. The towing weight for the new diesel models is an impressive 1,600kg.

MG Finance will contribute up to £2,500, including VAT, towards the deposit on MG6 GT SE and TSE petrol models and on MG6 Magnette petrol cars. Customers who buy the newly launched MG6 DTi-TECH diesel cars through MG Finance will get a £600 contribution, including VAT, to their deposit.

It means that customers now get support to buy an MG6 TCi-TECH petrol model from as little as £199 a month and the new DTi-TECH diesel models are available from £249 a month.