Renault mid-engined Twin'Run concept car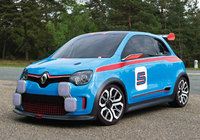 Twin'Run drove its first laps in front of spectators at the Monaco Grand Prix weekend. Monaco, with its legendary track, is the ideal theatre for the concept car's debut. Twin'Run is a performance car through and through and cultivates the Renault brand's passion for racing, picking up where the famous R5 Turbo and Clio V6 left off.

The public at Monaco got to see the three racers in action in a pursuit race organised to celebrate Renault's motorsport history. Twin'Run led the way with Carlos Tavares, Chief Operating Officer, at the wheel, tailed by a Clio V6 driven by F1 star Charles Pic and a Maxi 5 Turbo with its celebrated driver, Jean Ragnotti, at the helm.

Twin'Run: compact, potent and playful!
Twin'Run ties in perfectly with the series of concept cars illustrating Renault's design strategy. The diamond-dominated front end underlines Renault's new styling approach through its new brand identity. Like Twin'Z, Twin'Run gets blue paint in reference to the "Play" petal of the fifth stage in the French marque's design strategy. Twin'Run's stomping ground is the world of motorsport.

"Twin'Run is a cocktail of energy, passion and athleticism, rekindling the memory of emblematic Renault racing cars," says Laurens van den Acker, Senior Vice President, Corporate Design at the Renault group. "Following its twin, Twin'Z, a stylish urban concept car, Twin'Run shows that personalisation is a core strategy at Renault."

Twin'Run, has a compact, ultra-dynamic body. The wheels set in the far corners, minimal overhang and high waistline underscore the dynamic feel and promise a great drive.

Blue and red:
The blue paint finish on Twin'Run features taut, graphically drawn lines with emphatic shoulders enhanced by touches of red on the strip running all the way along the body, as well as two red bands on the roof. Red also figures at the front, where it underlines the grille and air intakes, and on the ultra-slim door mirrors and the tips of the rear airfoil. A red surround emphasises the circumference of the black and white wheels.

Homage to a prestigious forerunner
The "5" on the doors refers to the R5 Turbo, the emblematic 1980s rally car.

A host of details pay homage to this illustrious forerunner, including the design of the headlights and the generous haunches at the back. The four additional, extra-flat headlights with LED technology are a modern-day take on the light racks used in night rally specials. The fully customisable light sequences are controlled by an in-car system, the development of which was a real challenge as the designers had to provide a powerful light source in a lamp measuring just 25 mm.

"Twin'Run embodies the mad genius Renault has been known for over the decades, to the delight of motor sports enthusiasts. No one has forgotten the R5 Turbo and the Clio V6. Twin'Run is the true heir of those racing cars that had so much appeal," says Axel Breun, Head of Concept Car Design.

Twin'Run: a real racing car

Twin'Run was developed with the assistance of Tork Engineering / Poclain Vehicules, a French firm specialised in the preparation of chassis for competition. The concept car is a real racing car that has benefited from such competition expertise. The composite material bodywork covers a multi-tube steel chassis powered by a mid-engine engine derived from Mégane Trophy.

A V6 engine for competition
Twin'Run is fitted with the V4Y engine from the Renault-Nissan Alliance, which is used on the road for Laguna, Espace and Latitude, as well as in competition with the Mégane Trophy racer. Mounted longitudinally ahead of the rear axle centreline, the V6 3,498cc powerplant delivers 320hp at 6,800 rpm and torque of 380Nm at 4,850 rpm. The engine is full-bodied and generous from low revs, delivering linear acceleration and providing excellent traction around bends and in acceleration. Unsurprisingly, it also makes a great noise.

The V6 is mated to a SADEV six-speed sequential gearbox with limited slip differential, enhancing Twin'Run stability and traction in curves. The twin clutch is also borrowed directly from competition.

The air intake vents are positioned at the level of the rear wheel arches. Air extractors in the rear quarter lights help keep the engine cool. The cooling system has received special treatment with polished aluminum pipes set visibly into the cabin floor. The engine is separated from the driving position by a plexiglass panel.

The concept car is well balanced with a 43/57 weight distribution, to ensure it remained so given the mid-engine architecture, various components were positioned under the bonnet, including include the fuel tank, radiator and the hydraulic system.

Composite body
The bodywork in a glass-polyester composite has also benefited from racing expertise. This includes carbonfibre for the front blade, roof, rear vent and wheelarches. Carbon fibre technology combines aesthetics and efficiency, while keeping costs down.

Design intelligence informed by the world of motorsport
The design process was been led by a continuous effort to avoid reinvention with a common sense approach. The chassis has been made of a combination of track-proven elements, allowing to develop quickly a very efficient racing car.

Competition aerodynamics
The two-box architecture of Twin'Run creates lift at high speeds. The aerodynamics have received special attention with a vent channelling the air flow under the car and a fixed airfoil for enhanced aerodynamic support at high speeds.

A racing chassis
Twin'Run sits on a multi-tube high-performance steel chassis derived from aeronautics and used in competition. The chassis was developed entirely by Tork Engineering. The ground link is provided by front and rear axles fitted with double-wishbone suspension with independent pivots. The four pivots, in solid aeronautical quality aluminum, deliver high performance on the track. For filtering and body stability, Twin'Run is fitted with OHLINS spring shock absorbers at the front and rear.

The axles have an anti-roll bar with a diameter of 22 mm at the front and 25 mm at the rear. Roll is perfectly controlled for agility and responsiveness.

The aluminum wheel covers feature a special hub with a central bolt that can be dismounted in three parts and fit 18" Michelin tyres.

Jean Ragnotti: an expert view
Rally champion Jean Ragnotti was involved in the final tuning of the chassis system of Twin'Run. He shared his impressions with us while taking a look back at the R5.

"Following this first drive, I'd say that this is a sound car with a strong pedigree. It's easy to control. You can feel straight away that it's a sports car. In terms of balance and ride, it brings the R5 Turbo to mind to some extent.

The gearbox is smooth and you've got powerful brakes. Excellent traction with a responsive engine delivering full power at all revs, rounder and with more torque than the R5 Turbo, making it particularly efficient and easy to drive, unlike the R5, which required more technique.

It's definitely an efficient car with surprisingly good vertical comfort, including in zones of high compression where we're still a long way from the travel stops. All we need to sharpen our attacking edge a bit more are racing tyres. There's a slight roll but no understeer. A gradual performance, no surprises, taking corners easily. This concept car is a worthy heir to the Maxi 5 Turbo."