Dine at the heart of Sintra on Portugal's Atlantic coast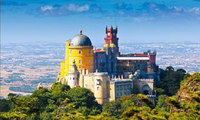 The Oitavos, the five-star luxury hotel and spa on Portugal's Estoril coast, has launched a Dining in Sintra Experience - a combination of the relaxation and luxury of a stay at the hotel with the history, romance and gastronomy of Sintra.
Located just 20 minutes from Portugal's historic centre of European Romantic architecture, guests of The Oitavos are invited on an exclusive excursion to discover Sintra. Surrounded by lush vegetation, this UNESCO World Heritage Site and its mystical hillsides peppered with fairytale castles have enchanted visitors for centuries and inspired wealthy aristocrats to build their extravagant summer homes there.
Spend the day exploring sights such as the exquisite gardens and hidden passages of the Quinta da Regaleira estate, or enjoy breathtaking views over Sintra and the Atlantic Ocean from the romantic Pena National Palace.
For the ultimate Sintra experience, at the close of an idyllic day, guests will be taken to dine at the majestic Quinta de São Sebastião to enjoy an authentic Portuguese meal, created in the same kitchen that has served some of the world's most influential figures throughout history; from Kings of Spain, Italy and Bulgaria, to British royalty including Prince Phillip and Princess Margaret. They will be given the chance to savour the intimate surroundings of this traditional manor house situated in the centre of magical Sintra, and admire the impressive frescos that adorn the walls in the main house.
Built as a hunting pavilion by the first Count of Póvoa in the 18th century, this magnificent manor house, inspired by the Petit Trianon in Versailles, has stayed within the family of current owner Salvador Taborda Ferreira for six generations. The family has strong connections with the English Royal family, from when the present owner's grandfather went into exile to England with the last King of Portugal, D. Manuel.
One of 18th century England's wealthiest men, William Beckford, who lived in the exotic Monserrate Palace, later bought by Francis Cook, referred to Quinta de São Sebastião as the "Green House" and it has remained the same colour ever since.
A national treasure, The Oitavos has now secured this property to offer its guests this exclusive, unparalleled experience.
The "Dining in Sintra Experience" includes the following:
A two-night stay at The Oitavos in a Superior room
Complimentary daily buffet breakfast at Ipsylon Restaurant
Return transfer to Sintra's historic centre
Three-course private dinner at Quinta de São Sebastião in Sintra
Return Airport transfers
Prices upon request and subject to a minimum of 10 people.
For more information, visit theoitavos.com.