Lawrence Dallaglio becomes Land Rover Global Ambassador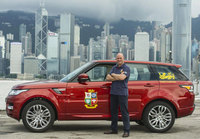 Lawrence Dallaglio has been announced as Land Rover's latest global ambassador joining The British & Irish Lions team on the 2013 Lions Tour, of which Land Rover is an Official Global Sponsor, to launch the All-New Range Rover Sport in the South China market.

Lawrence will be supporting the team in the Hong Kong Stadium on 1 June 2013 for the opening match in a historic warm up game against The Barbarians, where, as part of its launch in China, the Range Rover Sport will lead the team in to the stadium. Lawrence will walk with the fans as they enter the stadium, sharing the experience with everyone following the Tour across Land Rover's social channels.

After the Tour, Lawrence will continue to work with Land Rover in their support of rugby in the run up to and during Rugby World Cup 2015 in England where Land Rover is a Worldwide Partner. His exceptional career on the rugby field and his continued support of the game through his Lawrence Dallaglio Foundation Rugby For Change youth initiative is perfectly in tune with Land Rover's Above and Beyond spirit and epitomises the inner strength that sits at the heart of Land Rover and the game of rugby. He will work together with Land Rover to support all levels of the sport from international through to grass roots.

Land Rover has a proud history of supporting The British & Irish Lions and is excited to be continuing their shared journey together in Hong Kong and Australia in 2013 as an Official Global Sponsor. Land Rover celebrates those who have the confidence to embrace life's challenges and there is no better example than The British & Irish Lions, who have been doing exactly this since 1888.

A range of Land Rover vehicles will provide essential support for The British & Irish Lions operations on Tour, with vehicles being used in the UK, Ireland, Hong Kong and Australia. Land Rover will also look to share experiences and their passion for the game with fans both in the UK and those following the tourists abroad.

The All-New Range Rover Sport represents a step change in engineering and technology; it is almost half a tonne lighter resulting in significant CO2 savings and it's faster, more agile and more dynamic than ever. It will go on sale in the third quarter of 2013. Full information is available to view at newrangeroversport.com now.