DJ records another number one with Nissan Leaf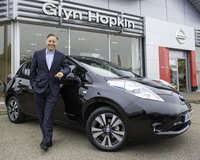 Star broadcaster and businessman Mark Goodier has replayed his number one motoring moment by becoming the first person in the UK to take delivery of the all-new and British-built 100% electric Nissan Leaf.

The former Top of the Pops host, best known for his time presenting the official UK top 40 on BBC Radio One, was the first customer to collect the original Leaf – the world's bestselling electric car – when the ground-breaking model was launched in Britain in March 2011.

And today the committed electric vehicle enthusiast enjoyed the same privilege when he returned to Glyn Hopkin Nissan in Waltham Abbey to receive the Intelligent Key to his range-topping Leaf Tekna.

Meanwhile, Mark's former car – the landmark first customer Leaf delivered in the UK – is now on sale at the dealership, giving one lucky driver access to their own slice of motoring history.

But, after two years and 8,500 miles of enjoyable and hassle-free mains-powered motoring in his 2011 Leaf, the DJ could not wait to climb behind the wheel of his new 2013 car, which features more than 100 improvements over the trailblazing original.

These improvements include an increased range – 124 miles compared to 109 miles – faster charging and, in Tekna spec, a luxurious leather interior and a state-of-the-art BOSE sound system – a must for music lovers like Mark.

Importantly though, the new Leaf remains totally exempt from road tax and the costly London Congestion Charge thanks to its zero emission electric motor.

Looking over his new car for the first time, a delighted Mark said: "I've loved every moment and every mile in my Nissan Leaf and so when I heard the second generation was on its way I signed up straight away.

"I have a bit of an obsession with electric cars and I keep up with all the developments. When the Leaf was first launched it was so far ahead of anything else on the market and the new model puts Nissan even further ahead of the competition.

"I can't wait to start driving it and discover just what difference the 100 plus improvements Nissan has made to the model will make for me."

As a businessman living and working in London, running a Leaf saves Mark around £8,000 a year in congestion charge and parking payments. In addition business buyers can offset the purchase price of EVs against corporation tax and drivers currently pay no Benefit-In-Kind tax when a Leaf is used as a company car.

Nissan GB's managing director Jim Wright, said: "We are incredibly proud of the new Nissan Leaf and the fact it's built right here in the UK, at our plant in Sunderland.

"We believe new Leaf is streets ahead of the competition and are confident the array of improvements will make it even more practical than before, resulting in even more people switching to electric motoring.

"The fact that Mark, who has been driving the first Leaf for two years, has come back for more is testament to the quality and appeal of the vehicle."

Coupled with its improved range the new Leaf can be charged at home for less than £2.50 and in as little as 30 minutes when using a specialist charging point.

What's more, the new Leaf, which is arriving in showrooms now, comes in three distinct trim levels for great choice.

In addition, a new battery leasing option makes financing more flexible while an enhanced battery warranty gives added peace of mind.

As before, the new Leaf benefits from the Government's £5,000 plug-in grant – a one-off payment that automatically brings down the purchase price.

That means the well-equipped entry level Visia Leaf is available from just £20,990 RRP while the top spec Leaf Tekna, which also comes with striking 17-inch alloys and LED headlamps – is available from just £25,490 RRP.

But cost of ownership could be reduced further with the introduction of the new battery leasing scheme which enables motorists to bring down the initial purchase price of the car and then lease its battery over a fixed term with convenient monthly payments. The separate battery lease payment ranges from just £70 per month depending on the length of the contract and mileage covered.

Whichever route buyers choose to Leaf ownership, peace of mind is assured with Nissan's enhanced battery warranty. The warranty on the previous-generation Leaf's battery covered it against defective materials or workmanship for five years. The extended warranty also protects against capacity loss, with a commitment to repair or replace a battery which falls short of what might reasonably be expected.