Vauxhall's Big Event tempts buyers with £500 free fuel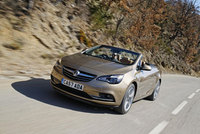 Vauxhall retailers nationwide are hosting The Big Event, on the weekend of Friday 14th June to Monday 17th June, where new car and van customers get £500-worth of free fuel, as well as the fantastic offers currently available.

And if that weren't enough, Corsa customers can also take advantage of free insurance on most models of the top-selling supermini.

The free fuel offer is even available on hot Vauxhall newcomers including the full-size Cascada convertible and the fashionable A-sector ADAM.

Customers with a budget in mind can now purchase the sylish ADAM with one year's free insurance on a Flexible Personal Contract Plan (PCP) plan.

New car buyers can also take advantage of Flexible Finance, a zero per cent APR representative, nil deposit and up to £2,000 deposit contribution offer.

Flex Appeal

Flexible Finance allows customers to tailor their finance to suit their budgets, putting them in the very best car they can afford.

All buyers have to do is choose and specify their new model at vauxhall.co.uk, decide on a deposit from zero upwards (Vauxhall will even contribute up to £2,000) and select any term between 24 and 60 months, or 24 to 48 months on ADAM.

The website's easy-to-use Flexible Finance Calculator means you just enter a deposit then adjust the slider until the monthly payment figure and the payback duration are right for you. Customers also benefit from zero per cent APR. The popular Corsa 1.2 SXi is available at £179 per month, over 60 months with a £500 Vauxhall deposit contribution and a £2,280 customer deposit, for example.

Accessorise More

Big Event customers can also get 20 per cent off all Vauxhall Accessories. A vast array of equipment including sat navs, iPhone/iPad cradles and cargo liners can be incorporated in to your Flexible Finance package with monthly payments from an additional 86p per month!

"Vauxhall's Big Event gives customers the opportunity to take advantage of a range of fantastic offers and incentives, from helping to cut costs at the fuel pumps to discounts on accessories," said Duncan Aldred, Vauxhall's Chairman and Managing Director. "Vauxhall customers can make big savings on new cars and vans including new-to-market models such as Cascada and ADAM."

£500 including VAT Free Fuel offer applies to car and commercial vehicle orders from 14th to 17th June 2013. Exclusions, terms and conditions apply.