New Insignia range set for class dominance once more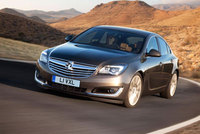 These are Vauxhall's first official pictures of the New Insignia range, which goes on sale today with first deliveries to customers in October after its world debut at the Frankfurt Motor Show.

Available as a five-door Hatch, four-door Saloon and Sports Tourer estate, the new range now starts at just £16,279, nearly £2,000 less than entry into the outgoing line-up. There are four new engines including: a 99g/km 140PS 2.0 CDTi offering large cost benefits to fleet and high-mileage drivers; an all-new 1.6 SIDI 170PS Turbo; and a new 250PS 2.0 SIDI Turbo petrol. Existing diesel units have also benefited from refinement improvements.

An all-new infotainment system, incorporating Bluetooth-operated internet connectivity, an 8-inch touchscreen, and 3D navigation and voice control, is fully compatible with a driver's smartphone and allows drivers unrivalled communications while on the move. A DMB (Digital Media Broadcast) radio is now standard across the range.

Since its launch in 2008, the Insignia has largely dominated the mid-size sector and launched the eye-catching design philosophy that has permeated all subsequent new Vauxhalls. The Insignia's classic exterior lines remain for the new range, with only subtle enhancements made to its styling, but inside there are important changes to the car's instrument cluster and centre console design, as well as improvements to its control-functionality.

The Insignia's range has been simplified, too. There are now eight trims (down from 14 in the outgoing line-up), ranging from Design to Elite, with a mixture of new models that will appeal to both retail and fleet buyers. And like all Vauxhalls, the New Insignia range will come with Lifetime Warranty, allowing first owners peace of mind for as long as they own the car, up to 100,000 miles.

'Our flagship car is coming of age,' said Duncan Aldred, Vauxhall's Chairman and Managing Director. 'The new Insignia range embodies all that Vauxhall stands for: powerful design, innovative technology, terrific value and driving pleasure. The Insignia's become a design classic in its class, and I'm confident that the new range will appeal to both existing customers as well as those who would never have considered buying a Vauxhall before.'

New Powertrains + Chassis Enhancements

Across the New Insignia range, there have been improvements to the car's ride and handling. Damper and anti-roll bar settings have been revised for better ride and control, while the Electronic Power Steering (EPS) system standard in all but the VXR models has been reprogrammed for improved feel. Noise Vibration and Harshness (NVH) levels have also been reduced for enhanced occupant comfort.

The New Insignia range's powertrain line-up has been broadened still further with the addition of an all-new petrol engine and new derivatives of the existing 2.0 CDTi unit.

Now available with a choice of three power outputs – 120PS, 140PS and 163PS – the New Insignia range's 2.0 CDTi engine offers drivers ultra-low CO2 emissions of 99g/km (76.3mpg combined) for the lower two outputs and 114g/km (65.7mpg combined) for the higher output unit (figures for Hatch models). But performance hasn't been compromised, with even the 120 and 140PS models producing up to 320 and 370Nm of torque respectively, and the 163PS model up to 380Nm.

For company car drivers, the new diesel engines offer an even more compelling argument, with both the 120 and 140PS ecoFLEX Hatch versions emitting just 99g/km of CO2 and dipping in to the 14 per cent Benefit-in-Kind category for the 2013/14 Tax Year.

Also new to the engine line-up are two direct injection petrol units: the new-generation 1.6-litre SIDI (Spark Ignition Direct Injection) producing 170PS/280Nm that recently launched in the 2013 Cascada convertible, and the 2.0-litre SIDI, producing 250PS/400Nm. Both engines provide an exceptional mix of refinement, economy and performance. They can be coupled with a six-speed manual transmission and Start/Stop function, or with a new, low-friction six-speed automatic gearbox. In addition to front-wheel-drive, the 2.0-litre SIDI Turbo is also available with four-wheel-drive.

Interior Design and Infotainment

The biggest change existing Insignia customers will see when they sit in the new car is a completely re-designed centre console and instrument cluster. The centre console has been simplified and now has fewer buttons for more intuitive operation of common functions, such as air conditioning and infotainment, while the instrument cluster has new dials and a fresh, high-tech look.

Optional across the range is an 8-inch screen infotainment display (up from 5-inches in the outgoing range) and a new, upgraded instrument cluster with an 8-inch, high-resolution colour display. The cluster incorporates two outer dials showing fuel and revs, while in the centre sits a speedometer that can be displayed in analogue or digital form, or changed to show functions such as smartphone or audio use, or navigation.

The 8-inch infotainment display has touch-screen functionality, allowing drivers to access all functions and sub-menus such as radio stations, song titles, smartphone connection or 3D navigation in an intuitive and safe way. Its illuminated, touch-sensitive surface reacts immediately to finger movements, with even individual letters and numbers being accessible via this method. Up to 60 favourite menus can be stored from all functions and Apps can also be downloaded via the car's Bluetooth-connected internet.

In addition to button, touchscreen and touchpad operation, Insignia drivers can also control the infotainment system via re-designed controls on the new-look steering wheel. The advanced voice recognition function can also be operated by a single push of a button on the steering wheel.

Stylish new leather and cloth trims are available in the New Insignia range, complemented by upgraded dashboard materials and decors.

Exterior Design & Technology

With 40 industry awards to its name – including the coveted European Car of the Year in 2009 – the outgoing Insignia has earned respect from media and customers alike. One of the pillars of its success has been its premium design – we called it 'sculptural artistry meets technical precision' at launch – and with the new range this has been enhanced still further.

Starting at the front of the car, the high-gloss chrome grille is wider and lower than before. The logo-bar that cradles the Griffin badge is thinner and includes winglets that link with the re-designed headlamps. On Elite models, these feature bi-xenon lamps with AFL (Advanced Forward Lighting), which is optional on all other models.

Standard headlamps are trimmed in high-gloss black with chrome-embedded accents, with the up-level AFL lights getting a 'wing-signature' daytime running light with energy-saving LEDs.

The lower front fascia inserts are designed to appear slim and wide to emphasise the upper grille size. Fog lamps are combined with wide, black inserts and chrome accents, which grow in width as they near the cabin.

In profile, the New Insignia range's Hatch and Saloon models are better defined through their unique tailgates and rear spoilers. The crease line on the C-pillar of the Hatch fades out before it reaches the spoiler's trailing edge, giving it a classic coupe silhouette. On the Saloon, the crease line continues along the edge of the spoiler to emphasise the body's length.

At the rear, the New Insignia range models appear wider and lower. The high-gloss chrome logo bar has been positioned lower on the tailgate. It extends into the tail-lights and incorporates the slim-look reversing lamps. The tail and stop functions of the two-piece tail-lights are illuminated by LEDs throughout the range.

The New Insignia range offers a raft of technology, safety and comfort highlights. These include state-of-the-art radar and camera-based assistance systems (including adaptive cruise control and second-generation park assist), premium seats, and 'Open & Start', the keyless entry and start system, to name just a few.

Two new exterior colours – Emerald Green and Aurum Green – join the exciting 10 colour choices.

Range

The New Insignia range comprises eight trim levels starting with Design, and going up to Elite. There are also two trims – Energy and Limited Edition – which package generous equipment levels popular with retail buyers. And a further two trims – Design and Tech Line – that package comprehensive levels of equipment for company car drivers.
Massive savings for company car drivers

The New Insignia range offers big savings over key competitors for company car drivers. Thanks to the new low CO2 engines, the Insignia Design 2.0 CDTi (120PS) ecoFLEX with Start/Stop saves company car drivers £992 in benefit-in-kind tax over a three-year period against a Ford Mondeo Edge 1.6 TDCi (115PS) and £1,118 over a Volkswagen Passat BlueMotion Tech S 1.6 TDI (105PS).

'The New Insignia family not only offers refreshed styling, new engines and cutting-edge infotainment, but also big savings for company car drivers,' said James Taylor, Vauxhall's Fleet Sales Director. 'Against key rivals such as the Ford Mondeo and the VW Passat, company car drivers can save over £1,000 in BiK tax as well as getting more standard equipment and better fuel economy.'