Seat's fixed servicing scheme reaches its 30,000th customer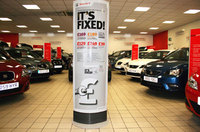 Seat is celebrating reaching a landmark 30,000 customers for its unique It's Fixed! servicing scheme. Glyn Hobby, 63, was this week handed back the cost of his service as the prize for becoming the landmark customer.

And Seat can take an unusual sort of pride in the fact that the prize value was especially small – thanks to the value that It's Fixed! gives all Seat drivers.

Glynn received a cheque for £249 from Keith Griffiths, Service Manager at Sinclair Seat in Swansea, which is all he'd paid for a major service on his 56 plate Seat Altea 1.9 TDI. And, like all those who book an It's Fixed! service online, he received 12 months of Seat Roadside Assistance absolutely free.

In all, Seat dealers have given away more than £5,000,000 worth of roadside assistance in just 18 months.

It's Fixed! has raced past 30,000 customers thanks to its all-encompassing customer appeal: It's Fixed! gives a Seat driver a prescribed, easy-to-understand pricing structure that offers main dealer expertise and parts, but at local garage rates. And thanks to Seat's online booking service at www.seat.co.uk, it couldn't be easier to get a servicing appointment at the nearest Seat dealer.

Keith Griffiths, Service Manager at Sinclair Seat, said: "Many motorists might believe that independent garages and fast fit chains provide cheaper servicing than the franchised dealer. But the highly competitive It's Fixed! programme shows this is not the case.

"Furthermore, no fast fit outfit can match the service we provide, which also includes a two-year warranty on parts, fully trained expert staff and customer convenience features such as while-you-wait servicing. With fixed prices and a promise that you won't find cheaper locally, there's no reason to use any other garage."

Seat is so confident that the It's Fixed! prices can't be beaten that it will refund the difference to anyone that finds they could have had the same work done cheaper, to the same standard, within seven days and five miles of the dealership.

It's Fixed! 30,000th customer Glyn Hobby rates Sinclair Seat so highly that he's been a customer for 18 years, and has his servicing carried out there despite living 80 miles away. He said: "I've always had such an incredibly good service from Sinclair Seat. They never let me down."

A minor service for any Seat from three to 15 years old costs just £129 including VAT, parts and labour, while a major service is £249 – and both come with 12 months of Seat Roadside Assistance absolutely free, when booked online. A first year service is £169.

In addition, It's Fixed! extends to offering transparent fixed prices on a number of common maintenance jobs. For example, an air conditioning service is just £69, a brake fluid change £49, a brake pad replacement £99, and a new clutch £399.