Floral Guernsey Summer Festival this July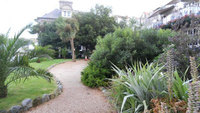 Garden and floral lovers looking for an intimate festival this year can head to Guernsey from 6-14th July for the annual Floral Guernsey Summer Festival. The nine day festival will welcome gardening expert and television presenter Carol Klein, who will share her horticultural expertise with locals and visitors. There will also be award winning open gardens, walks with local horticultural experts, demonstrations from garden designers and a family fun gardening day.
Guernsey is a haven for floral enthusiasts with many unique plant varieties and a mild maritime climate, meaning that the island is decorated in colourful wildflowers for most of the year. Visitors can expect to see rare orchids, crocuses and exotic lilies in immaculately groomed historical gardens and wildflowers along the coastline and in the rural interior. Here's a selection of the festival's highlights (unless stated otherwise, all tours can be booked at the Guernsey Information Centre on 01481 723 552):
Guided walk of Lihou Island- 10th July, from 1.15pm
Lihou Island, which is only connected to Guernsey at low tide is home to many specialised plants, insects and birds. Guide, Gill Girard, will take guests across the seabed on a cobbled causeway to Lihou for an exploration of the remote and unspoilt island. The walk costs £8.50 per person including afternoon tea and participants are to meet at the Prosperity Monument Island car park.
Guided walk on Pleinmont nature reserve- 11th July, 10-12pm
Ant Ford-Parker from Outdoor Guernsey will take guests on a guided coastal walk of Pleinmont, Guernsey's most westerly peninsula. The walk will take in the flora and fauna, native bird life and historical landmarks of this nature reserve. The walk costs £8 per person and participants must meet outside the Imperial Hotel in Torteval at 10am.
Exotic Gardens of Herm with a three course meal- 12th July, 9:30am- 2pm
Herm is home to many subtropical plants from around the world due to its favourable climate. Brett Moore will take guests on a private tour of the exotically planted gardens followed by a three course lunch in the Whitehouse Conservatory Restaurant. The tour and lunch costs £39.50 (£34.50 for RHS members).
Victorian summer garden party- 13th July, 2- 4.30pm
The stunning walled kitchen garden of Saumarez Park will hold a Victorian summer garden party with Victorian games and crafts for all ages; produce and plant stalls, tea, coffee and cakes and garden activities. The party is free and no bookings are required.
Dinner with Carol Klein- 13th July, 7-11pm
Gardening expert, Carol Klein, will host a talk on 'Wild Flowers: Nature's own to Garden Grown'? sharing her practical expertise and hints and tips, including which variations to go for and how and where to plant for the most spectacular results. The talk will be followed by a three course meal with Carol. The talk and dinner will take place at the Farmhouse Hotel in St. Saviour and tickets cost £40 per person.
Family floral fun at Le Friquet- 14th July, 10am- 6pm
Gardening isn't just for adults with this family floral day at Le Friquet Garden Centre. There will be a sow and grow children's tent with free gardening workshops for children, including a special 'how to grow your own veg at home' children's workshop from Carol Klein and plenty of fun and games. The day is free and no bookings are required. Workshop times and more information is available from the Le Friquet customer services desk on 01481 259 220.
Victor Hugo guided walk, 14th July- 2-4pm
Take a walk through the quiet lanes and cliff paths of Guernsey's Forest Parish and experience wild, rural Guernsey. From Les Villets to La Moye Point, the guided walk will discover this historic corner of Guernsey, including Victor Hugo's 'Port on the Fourth Floor' as described in Toilers of the Sea. The walk costs £5 per person in aid of the Forest Group (children under 12 go free). Booking necessary through Marguerite Paul on 01481 263427.
Getting there- Guernsey is accessible from London Gatwick with Flybe (flybe.com) and from Gatwick and Stansted with Aurigny (aurigny.com) with prices starting at £77 and £74 respectively. Flights from regional airports are also available. Sea crossings from Poole and Portsmouth can be booked through Condor Ferries (condorferries.co.uk) with return prices starting at £101.50 for a car and two passengers.
For further general information on Guernsey, see visitguernsey.com.