The most luxurious Land Rover Defender by far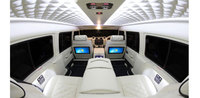 The Land Rover Defender is one of the legends of the British automotive industry with world famous off-road capability.

Now, the world's leading specialists in bespoke luxury vehicles, Carisma Auto Design, have added unrivalled luxury to its list of achievements incorporating exotic leather and materials that are hand-built bespoke by English craftspeople.

While the Carisma Auto Design conversion of the Land Rover Defender was originally created to be the ultimate luxury vehicle with off-road ability, it can also be adapted to create a luxury armoured vehicle that is completely discreet to protect the identity of the occupants.

Carisma greatly respects Land Rover's design pedigree, which is why it has not modified the exterior but only enhanced the interior, allowing discerning clients to engage in outdoor activities while in total comfort.

Ultimate luxury commanding absolute exclusivity

With a range of exotic leather, carpet and wood available in any combination, no two Defenders from Carisma Auto Design are ever the same. The specification and design of each Carisma Defender is totally unique to the client and only limited by their imagination.

The leather used by Carisma is carefully sourced from barbed-wire free environments to ensure pristine hide and is complemented by a choice of real wood veneers, hand-built and fitted to the vehicle by a team of some of the best English craftspeople.

To complete the ultimate luxury vehicle for outdoor sporting pursuits, Carisma can hand-craft a bespoke gun cabinet from the finest wood, featuring magnificent cut-glass crystal champagne flutes and tumblers complete with separate refrigeration facilities.

Quintessential luxury with unlimited possibilities

No matter what you intend to use your Carisma Defender for, you can choose from a range of multimedia options to suit your every need. Featuring on board Windows or Apple operating systems, Wi-Fi and Bluetooth to ensure you are always connected when on the move, with audio equipment from Bang & Olufsen to provide the ultimate travelling experience.

Sales and Marketing Director, Carisma Auto Design, Clive Drake said: The Land Rover Defender is an iconic British vehicle with legendary off-road capability. One day a client came to me wanting a vehicle that had all of the capabilities of the Defender but with an interior ambience of a Range Rover with the feeling of pure exclusivity of a Rolls-Royce, the Carisma Auto Design conversion of the Defender was born.

"Satisfying special and unusual requests is a key part of our specialist skills and services. Clients come to us because they know that we can achieve the impossible and deliver a vehicle to them that exceeds their expectations. Trust me, we've been asked to incorporate some truly outlandish features, but we still manage to integrate them seamlessly into the vehicle's interior. We are not limited to the Defender and alternative vehicle conversions are shown on our website," Clive continued.

Amongst some of the recent requests have been solid crystal ash trays and champagne flutes, integrated premium pen sets with tailored housing, customised seat embroidery, 42" televisions and refrigeration units. All these and much, much, more have all been tastefully hand crafted into vehicles over Carisma Auto Design's 14 year history.