100% electric. 100% congestion charge free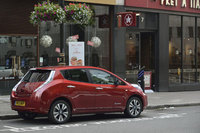 Hundreds of Nissan LEAF drivers will continue to make their way around the nation's capital, safe in the knowledge their 100 per cent electric car remains unaffected by the London Congestion Charge.

While other vehicles – including hybrids - have been stopped in their tracks by a tightening of the C Charge emissions rules and the scrapping of the Greener Vehicle Discount (GVD), the British-built LEAF, the world's bestselling all electric car, can still enjoy the freedom of the city with a charge of £10 per year rather than £10 per day.

Happily for the ever-growing army of switched-on Londoners and commuters, both the trailblazing original LEAF and the newly-launched second generation model qualify for a new Ultra Low-Emission Discount and continued total exemption from the congestion charge.

But there is some good news for drivers – the Nissan LEAF is now available from just £189 per month – less than the cost of four weeks' C Charge payments.

And as the groundbreaking LEAF costs just two pence per mile to run, drivers making the switch can cover up to 500 miles – more than four complete circuits of the M25 – for the price of a single day's C Charge payment.

What's more, parking and charging the all-electric LEAF in London is a breeze. As the city now has more than 1,300 on-street charging points – the largest network in Europe.

Nissan UK Sales Director, Jon Pollock, said: "The changes to the London Congestion Charge introduced today clearly make the Nissan LEAF the number one option for motorists who regularly drive into central London.

"Importantly though, the LEAF is not a compromise. It's a practical everyday family car that can come with everything from a state-of-the-art sound system to leather seats.

"It's great fun to drive too."

Just launched in the UK, the second generation LEAF features more than 100 improvements on its predecessor and is now even more appealing, practical and affordable than ever.

Among the improvements is an increased range – 124 miles compared to 109 miles – and quicker charging times. The new LEAF can be fully charged in as little as four hours when using a specialist charging point.

What's more, the model now comes in three distinct trim levels for greater choice, while a new battery leasing option makes financing more flexible and an enhanced battery warranty gives added peace of mind.

For more information about the Nissan LEAF or to arrange a test drive, visit nissan.co.uk to find your local dealer.