Nissan PlayStation GT Academy qualifying process now live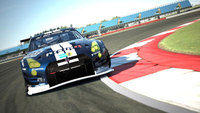 The 2013 GT Academy competition will get under way at 0900BST today on an exclusive downloadable demo of the new Gran Turismo6 game for PlayStation3. The challenges, that could open the door to a real life racing career with Nissan, remain open until Sunday, 28th July at 2359BST (0059CET on Monday, 29th July) for GT Academy competitors, while the demo itself will remain available to play until 31 August. Demonstrating how the award winning virtual-to-reality contest has successfully challenged the traditional, expensive route into motorsport and discovered new talent, two former Champions, Lucas Ordoñez and Jann Mardenborough, both raced at the recent Le Mans 24 Hours in a Nissan-powered LMP2 car recording an impressive 4th place finish in class.

GT Academy 2013 is expected to be the biggest yet, with more countries participating and the allure of a first glimpse at the exclusive GT6 demo making it more attractive than ever for racing driver hopefuls to have a go. The innovative co-operation between Nissan and Sony Computer Entertainment has attracted more than two million entrants since its inception in 2008, and created a number of successful racing drivers now competing for Nissan in top-level international motor sport.

Kazunori Yamauchi, creator of the Gran Turismo series, has set an interesting challenge for Gran Turismo entrants featuring stunningly re-created Nissan cars including the Leaf, 370Z and GT-R. The GT6 demo will guide players through beginner rounds of a GT Academy-themed driving school before unlocking the final qualifying event featuring the Silverstone Grand Prix Circuit, making GT Academy equally accessible to Gran Turismo beginners and experts. Anyone who registers and submits a qualifying time will receive free bonus content.

The online competition will lead to the fastest gamers being invited to the National Final events where they will be challenged on the game as well as in real cars. From there, the action switches to the famous Race Camp at Silverstone, with the winner there set to potentially join the elite band of Nismo Athletes.

GT Academy Europe 2013 includes France, Italy, UK, Spain, Portugal, Benelux, Nordics (Denmark, Sweden, Finland and Norway) and CEE (Poland, Czech Republic, Hungary and Slovakia). The USA, Russia and Germany will again each have standalone GT Academy competitions.

"This is the most exciting entry mechanic to date for GT Academy," explained Usama Al-Qassab, Vice President Product Marketing at Sony Computer Entertainment Europe. "Having an insight into some of the features that will be seen on Gran Turismo 6 later this year will be interesting for the PlayStation community. The challenges encourage everyone to get involved. That is what GT Academy is all about – an intensive school that unearths real racing talent through PlayStation and Gran Turismo and is open to everybody. Even if you are not eligible to progress to the next stages of GT Academy it is always good to learn and see how you compare to your friends."

Nissan's Director of Global Motorsport, Darren Cox, is equally enthusiastic about getting people to enter the competition: "At Le Mans, two former winners of GT Academy lined up in the Nismo-powered Greaves Motorsport Zytek-Nissan LMP2 car to compete in arguably the greatest race in the world. Their impressive 4thplace finish shows the phenomenal success of the GT Academy programme and its world class Driver Development Programme. There is no clearer demonstration of why it is worth entering GT Academy, as it could be you next. Even if you don't make it that far, there is no harm in dreaming and racing some lovely Nissan cars in the GT6 demo."

Eligible entrants within the participating countries will need a Sony Entertainment Network account and access to a PlayStation3 connected to the internet. They can download the free qualifying GT6 demo from the PlayStationStore, with no ownership of the Gran Turismo game required. People without a PS3 can enter the competition via a series of GT Academy Live Events that will be promoted by PlayStation and Nissan locally.

For more information, visit eu.gran-turismo.com.