Miller Homes adds three new developments to West Midlands portfolio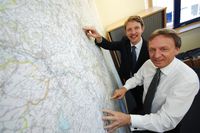 Miller Homes West Midlands has announced plans to launch three new housing developments this year.

The award-winning housebuilder has secured land in Kidderminster, Worcester and Tutbury, with 92 new homes planned in total.

Construction of the three, four and five-bedroom properties will not only present affordable choices for those looking to make a move, but also help to boost the regional economy by providing work for local contractors.

The largest of the new developments will be situated on a site off Burton Road in Tutbury, where 47 new homes will be built.

Joining the Miller Homes portfolio will be two smaller developments, with 14 new homes being built on Sutton Park Road in Kidderminster and 17 properties on land off Walkers Lane in Worcester.

Commenting on the expansion, Paul Walters, associate director for Miller Homes in the West Midlands, said: "As a housebuilder, we're always looking for and receiving potential opportunities for development and the fact that we're in a position to take on three new sites is a reflection on an improving market.

"Enquiry levels and demand across the region are increasing as consumer confidence grows and, with the introduction of Help to Buy, we are aiming to meet that need with a wide choice of quality and affordable new homes.

"The land that we've acquired will increase our geographical spread across the region, and also present opportunities for local contractors who act as our partners in the building process."

Miller Homes has developments across the West Midlands and for more information visit millerhomes.co.uk.